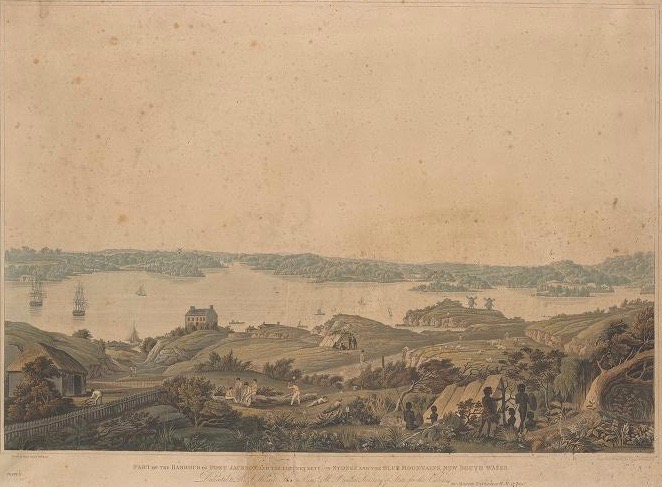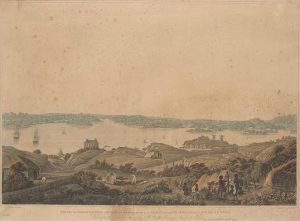 Taylor, James (c.1785-1829; English)
Part of the Harbour of Port Jackson and the country between Sydney and the Blue Mountains 1823
Lithograph, 39 x 57.5 cm
Purchased 1901
State Library of Victoria (H5275)
Taylor, a military officer based in Sydney between 1817 and 1821, produced a number of fine topographical views before returning to England. This was one of three prints published in London in August 1823, together making up an extensive panorama.
The image shows Aboriginals and settlers co-existing harmoniously in a utopian version of the New South Wales landscape, exemplifying the "Arcadian" approach of early Australian colonial artists, as discussed by Tim Bonyhady (1985).
It also reflects the specific political background of the work. The inscription dedicates the print to R.J.Wilmot-Horton (1784-1841), Under Secretary of State for War and the Colonies from 1821-28. Horton is described by Gnosh (1964) as "the leading advocate of colonization" during the 1820s, as a means (in Horton's view) of improving the economic situation in England by disposing of a proportion of the unemployed population to colonies in need of labour. But his opinion lost out to the idea, advanced especially by E.G.Wakefield (1796-1862), and enshrined in the South Australian Colonization Act of 1834, that England and its colonies would benefit most by encouraging established English farmers to emigrate.
Refs.
NGV 1905, p.132 (V.Buvelot Gallery, 3rd bay, no.38) [£2/2] 
The inscriptions also note that the print was engraved by R.Havell & Son, and published by Colnaghi & Co., London
For Taylor, see Bénézit 13, p.740; and https://www.daao.org.au/bio/james-taylor/biography/ (by Elizabeth Ellis; published 1992, last updated 2011)
See also Bonyhady Images in Opposition (1985), esp.chs.2 ("An Aboriginal Arcadia") and 3 ("A Pastoral Arcadia")
For Wilmot-Horton and Wakefield, see R.Gnosh, "The Colonization Controversy: R.J.Wilmot-Horton and the Classical Economists," Economica, n.s., vol.31, no.124 (Nov.1964), pp.385-400 (quoted); and Michael Radzevicius, "England Elsewhere: Edward Gibbon Wakefield and an Imperial Political Dream" (PhD thesis, University of Adelaide, 2011), esp.pp.28ff., with further references on both Wilmot-Horton and Wakefield (the references by both Gnosh and Radzevicius are both available online)