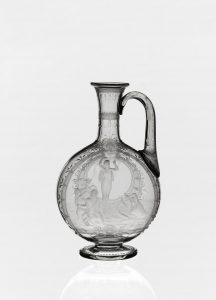 Pre-Felton acquisitions included:
Various pieces of glassware purchased 1881, including Claret jug, with etched design of Venus rising from the sea. NGV 701-D1M: see photo; further examples also in NGV (refer catalogue)
Set of wine and champagne glasses. Presented by Webb & Sons 1881. NGV (refer catalogue); some no longer extant?
[photo: Claret jug purchased 1881 (NGV 701-D1M)]
The firm of Webb & Sons was established at Stourbridge, Worcestershire, in 1837, closing only in 1990.
Melbourne's pre-Felton examples all appear to have been acquired from Webb & Sons at the Melbourne International Exhibition in 1881, where the company apparently had a spectacular stand. Edwards (1998), who reproduces a number of the extant examples, all dated to about 1880, notes that others were de-accessioned in the 1940s.
Refs.
AR 1881, p.54 ("Collection of Glass Ware. Sculptured, engraved, and etched," purchased at the 1881 exhibition) and p.56 ("Eight specimens Artistic Glass, engraved," donated by Webb & Sons) 
Refer NGV catalogue; see also Geoffrey Edwards, Art of Glass (1998), pp.154-55, and Edwards in Lane Decorative Arts (1980), p.80. For the general history, see e.g. https://en.wikipedia.org/wiki/Thomas_Webb_%26_Sons (accessed 22 April 2020)