Pre-Felton acquisitions noted:
Three pieces of glassware. Purchased 1897. Loc?
Tiffany & Co., founded in New York in 1837, is now a global brand, noted especially for its jewellery. Under the direction of Louis Comfort Tiffany (1848-1933), the firm became famous for its Art Nouveau glassware.
Terence Lane, in his survey of the development of Melbourne's decorative art collections (ABV 21, 1980), notes that the three pieces noted above were purchased directly from Tiffany & Co. in New York in 1897. One (described simply as a "pot") appears in the NGV's unpublished list of pre-Felton acquisitions under 1897 (with the accession no.356-D2), but none appears to be extant in the Melbourne collection. They were all presumably de-accessioned in the 1940s and 1950s.
Since 1981, several characteristic pieces of early 20th-century Tiffany glass have been acquired for the NGV.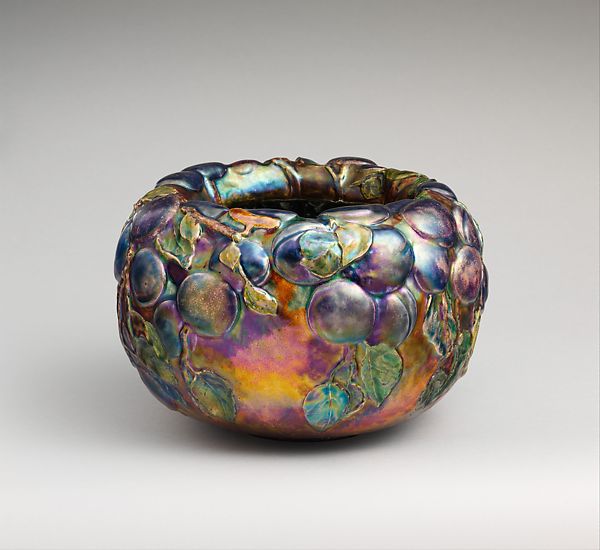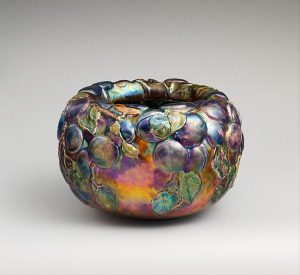 [comparative photo: bowl designed by Louis Comfort Tiffany, 1898-1902 (Metropolitan Museum, New York)]
Refs.
For the 1897 acquisitions, see Lane, ABV 21 (1980) [available online], and the NGV's unpublished list of pre-Felton acquisitions, as noted above. Lane also comments on the later de-accessioning
For the NGV's current holdings, see https://www.ngv.vic.gov.au/?type=collection&s=Tiffany and Geoffrey Edwards, Art of Glass (1998), pp.164ff.
For the general history, see e.g. https://en.wikipedia.org/wiki/Tiffany_%26_Co. and https://en.wikipedia.org/wiki/Tiffany_glass; and for the bowl reproduced above, see https://www.metmuseum.org/art/collection/search/829 (sites accessed 18 April 2020)