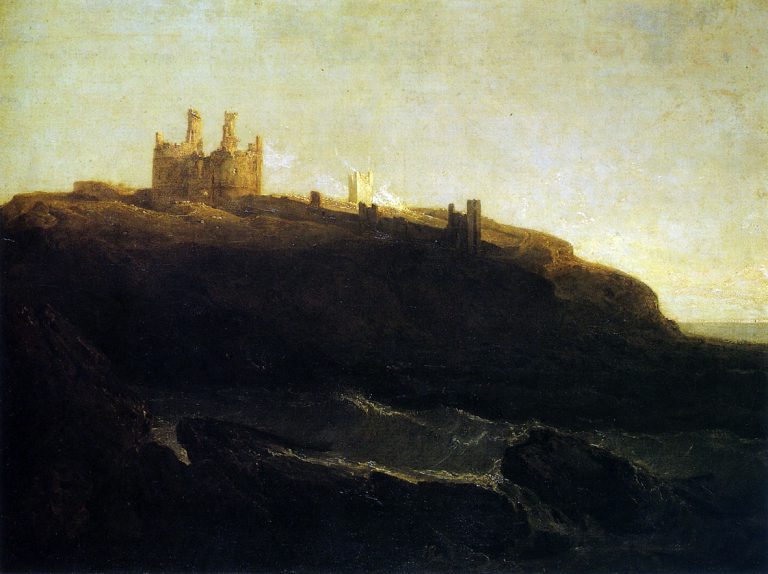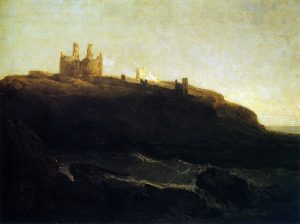 Turner, J.M.W. (1775-1851; English)
Dunstanborough Castle, North-East Coast of Northumberland, Sunrise after a Squally Night (1798)
Oil on canvas, 92.2 x 123.2 cm
Gift of the Duke of Westminster 1888
National Gallery of Victoria (313.3/1)
This early canvas was exhibited at the Royal Academy in 1798, when Turner was only 23. Evelyn Joll suggests that it may be the first oil the artist sold at an RA exhibition.
Frequently exhibited in subsequent years, it was acquired by the Duke of Westminster in about 1875, shown in the Centennial International Exhibition in Melbourne in 1888, and thence donated to the NGV.
This was the first Turner to enter the Melbourne collection, and one of the oldest works shown in the La Trobe Gallery during the pre-Felton era. The painter depicted the medieval ruins in romantic fashion, originally exhibiting the work together with lines from James Thomson's poem The Seasons, on the horror of stormy seas crashing on the rocks at night, and the relief brought by the light of day.
Refs.
AR 1888, p.38; NGV 1894, pp.92-94 (IV.McArthur Gallery, no.58; ill.); NGV 1905, p.34 (I.La Trobe Gallery, no.63; ill.)
For detailed discussion of this canvas and related works, see Evelyn Joll's essay "Turner and Dunstanborough, 1797-1834," in David Lloyd (ed.), Turner, Canberra: National Gallery of Australia, 1996, pp.36-47 (esp.p.40, for the suggestion that the painting may be the first oil sold by Turner from an RA show); the picture appears in this exhibition catalogue as no.2. See also Hoff (1995), pp.298-300 (with further details and references); and Gott 19C (2003), p.12 (entry by Felicity Milburn)
For the NGV's other holdings of Turner, see Hoff (1995), p.300-301, and the gallery's online catalogue: http://www.ngv.vic.gov.au/explore/collection/artist/6891/