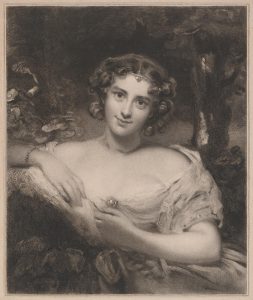 Unknown artist (19th century?)
A Lancashire witch
Mezzotint
Donated by J.Grundy 1868
National Gallery of Victoria (p.178.9-1)
This print is described in the NGV's unpublished list of pre-1905 acquisitions as "after Gary Bradley" (an artist who has not been traced).
The title may allude to the infamous trials of the Pendle witches in 1612, which led to the hanging of 10 of the 12 accused, although the young lady represented seems to suggest an ironic reference here.
Refs.
Not listed in NGV 1894 or 1905
For the 17th-century background, see https://en.wikipedia.org/wiki/Pendle_witches