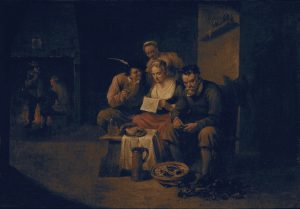 Unknown artist (Dutch or Flemish, 17th century?)
Reading a Letter
Oil on canvas, 41.8 x 60.0 cm
Presented by Dr Thomas Black, 1885
National Gallery of Victoria (310.11/1)
This work, described in NGV 1894 and 1905 as attributed to David Teniers the Younger (1610-90), was later demoted to "Dutch school," possibly by David Ryckaert (1612-61): thus in NGV 1943 and 1948. Hoff (1995), agreeing that "the motifs seem to be derived from Teniers the Younger," catalogued it as Dutch or Flemish work of indeterminate date.
Currently, the NGV again suggests a 17th century date. Hoff noted considerable damage and old repairs, and the work clearly needs cleaning.
The donor was a well-regarded medico who settled in Melbourne in 1842, and died in 1894.
Refs.
AR 1885, p.36; NGV 1894, pp.123-24 (V.Buvelot Gallery, 7th bay, no. 13); NGV 1905, p.138 (V.Buvelot Gallery, 4th bay, no.4) 
Hoff (1995), p.93, cites earlier NGV catalogue details for this work, including the suggestion (NGV 1948, p.135), that the work may be by David Ryckaert (1612-61), also noted in NGV 1943, cat.549; but this is rejected by Hoff
For accepted NGV works by Teniers, see Hoff (1995), pp.283-4, and the gallery's online catalogue, under David Teniers II: http://www.ngv.vic.gov.au/col/artist/1267. For Teniers, see e.g. Bénézit 13, pp.775-79
For the obituary of Dr Black published in the Melbourne Argus, 17 Sept.1894, noting his age as 95, see http://trove.nla.gov.au/ndp/del/article/8705438