Unterberger, Franz Richard (1838-1902; Austrian)
The Gulf of Salerno
Oil on canvas, c.114.34 x 101.6 cm
Purchased, 1875; de-accessioned and sold at auction, 1950
Unidentified; present location unknown 
Based in Brussels, Unterberger exhibited throughout Europe and in America. By the 1870s, he was specializing mainly in picturesque Italian views peopled by stock Mediterranean types.
This painting, which was listed as on loan to the Bairnsdale District School of Mines in 1929, was deleted from the NGV collection in 1950. Comparable examples regularly appear at auction overseas, including a number of views of Amalfi and the Gulf of Salerno, typically somewhat smaller than the painting formerly in Melbourne.
[reproduction below: Unterberger Amalfi – Golfe di Salerne, auctioned in Oct.2019]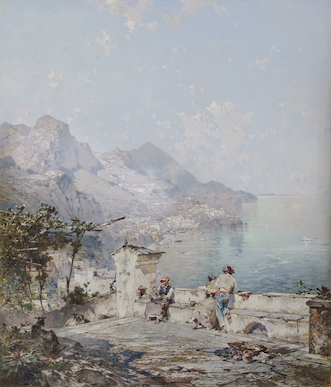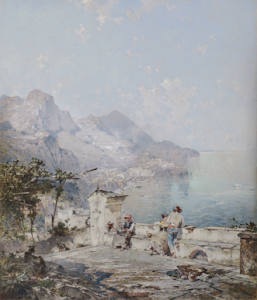 Refs.
AR 1875, p.38 (giving the dimensions as 40½ x 45¾ inches); SB, p.305 (noting 1950 auction); NGV 1894, p.90 (IV.McArthur Gallery, no.51); NGV 1905, p.163 ("Pictures on loan to country galleries") [£126] 
For the 1929 loan to Bairnsdale, see AR 1929, p.15 (Schedule IV). For the artist, see Bénézit 13, pp.1354-55 (listing this painting as still in the NGV). For the example reproduced here, measuring 81.9 x 69.9 cm, auctioned on 28 Oct.2019, see https://www.mutualart.com/Artwork/Amalfi-Golfe-de-Salerne/739167E22F08A1B7 (full details available only to subscribers)