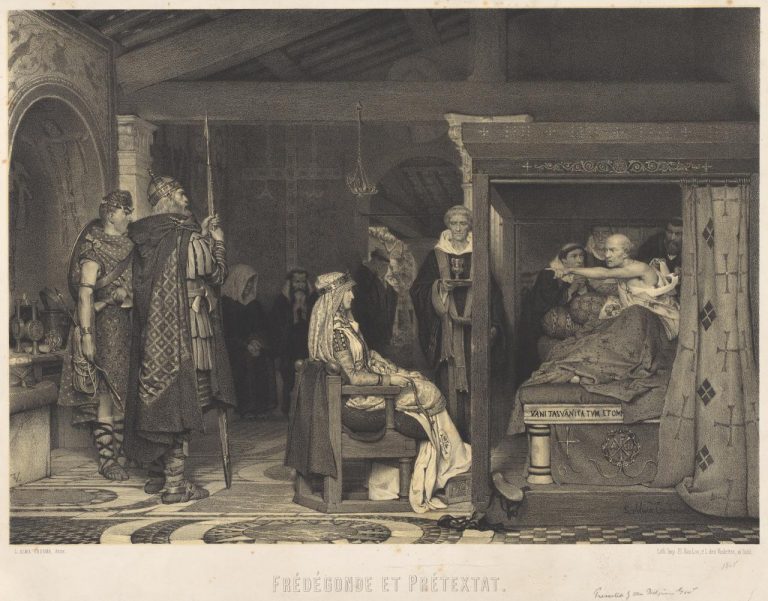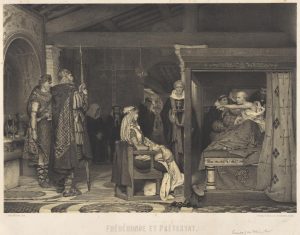 Van Loo, Florimond (1823-1901; Belgian), after Alma-Tadema, Lawrence (1836-1912; Dutch/English)
Frédégonde et Prétextat (1865)
Lithograph
Presented by the Belgian Government 1868
National Gallery of Victoria (p.179.9-1)
This print reproduces a painting of 1864 (now in the Pushkin Museum, Moscow), depicting Praetextatus, Bishop of Rouen from 549 to 586, on his death-bed, accusing the Merovingian Queen Fredegund of ordering his assassination (the two had long been enemies). The story is told in Gregory of Tours' History of the Franks.
The lithographer was born in Ghent.
Refs.
NGV 1894, p.106 (V.Buvelot Gallery, 2nd bay, no.16) 
Inscriptions below the image identify the artists involved; the date of 1865 is added in pencil at lower right
For the subject, see e.g. https://en.wikipedia.org/wiki/Prætextatus_(bishop_of_Rouen), and for a reproduction of the Alma-Tadema painting, see e.g. https://www.alamy.com/stock-photo/fredegunda.html
For Van Loo, see e.g.https://rkd.nl/en/explore/artists/101426 (providing basic details); for Alma-Tadema, see linked artist entry