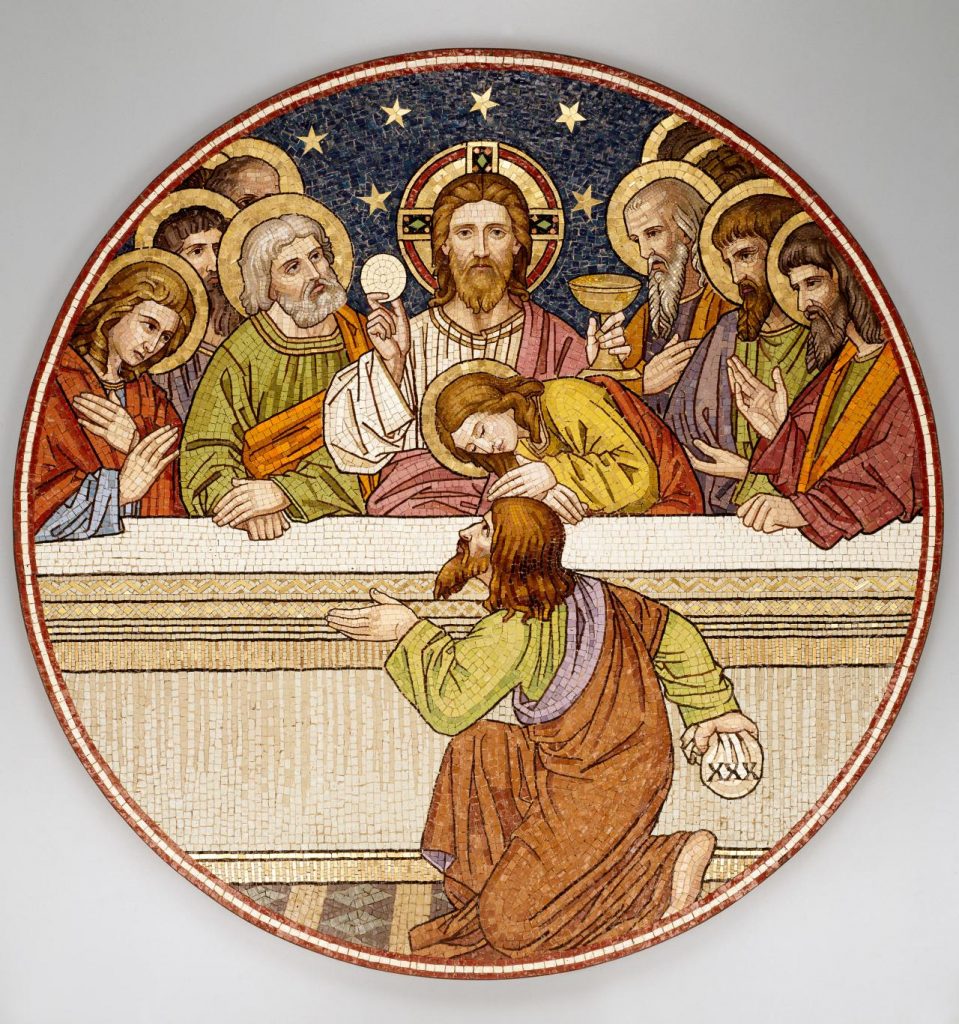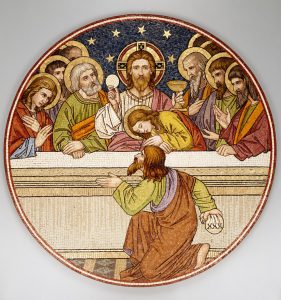 Pre-Felton examples included [NB company name abbreviated below to V&MG&MC]:
Group of some 25 examples of "reproductions of old Venetian glass made by Dr Salviati," dated to c.1870/72. Purchased 1874. Many still in NGV (284-D1R to 311-D1R, but discontinuous numbering)
Large group of aprox.130 pieces of glassware, dated to c.1878-80. Purchased from Salviati & Co.at the Melbourne International Exhibition, 1881. Many still in NGV (153-D1R etc.: refer catalogue for details)
Last Supper, mosaic roundel, c.1880. Purchased 1881. NGV 401-D1R 
[photo: Last Supper mosaic roundel, c.1880. Purchased 1881 (NGV 401-D1R)]
Venetian lawyer Antonio Salviati (1816-90) established the Compagnia Venezia-Murano in 1866, with the ambition of restoring Venetian glassmaking to its former glories, essentially through the manufacture of reproductions of Renaissance originals. Salviati's initiative received influential backing from archaeologist Sir Henry Layard, and was given enthusiastic support, as Geoffrey Edwards notes, in Sir Charles Eastlake's influential handbook Hints on Household Taste (published posthumously in 1868).
Salviati himself advised on the selection of the group of objects bought for Melbourne in 1874, and these included several made by the V&MG&C, as noted above. While several do have the air of somewhat mechanical reproductions, others such as a dolphin bowl in opalescent glass (NGV 302-D1R) suggest a more original and contemporary tendency.
By the late 1870s, Salviati's company had diversified into the production of modern as well as historicist glass, exhibiting its products at various international exhibitions, and sending a large and dazzling display to the Melbourne International Exhibition (1880-81), from which many pieces were purchased, as noted above. These included a number of contemporary riffs on the tradition, in an elaborate style that even some Italian commentators of the day found "strange and fantastic" (quoted by Edwards 1998, p.152; see also Edwards 1997). While some of these pieces were de-accessioned in the 1940s, a substantial representative group remains, and a number were included in the NGV's 'Liquid Light' exhibition in 2019.
Revival of mosaic technique was a particular emphasis of Salviati's, and mosaics produced by the V&MGRC were installed in Westminster Cathedral and other prominent sites during the later 19th century. The Last Supper mosaic roundel acquired for Melbourne in 1881 is a good example of the finesse achieved, in a frankly revivalist mode.
The V&MG&MC, in decline from c.1900, was absorbed into the Venetian firm of Pauly & Co.in 1919, and production resumed at Murano in 1925.
Refs.
For the examples in the NGV, see online catalogue; Edwards ABV (1997) and Edwards, Art of Glass (1998), esp.pp.9 and 150-52; and Matthew Martin, "Liquid Light: 500 years of Venetian Glass" (2019), available as https://www.ngv.vic.gov.au/essay/liquid-light-500-years-of-venetian-glass/ (accessed 4 May 2020)
See also https://en.wikipedia.org/wiki/Pauly_%26_C._–_Compagnia_Venezia_Murano (accessed 4 May 2020)