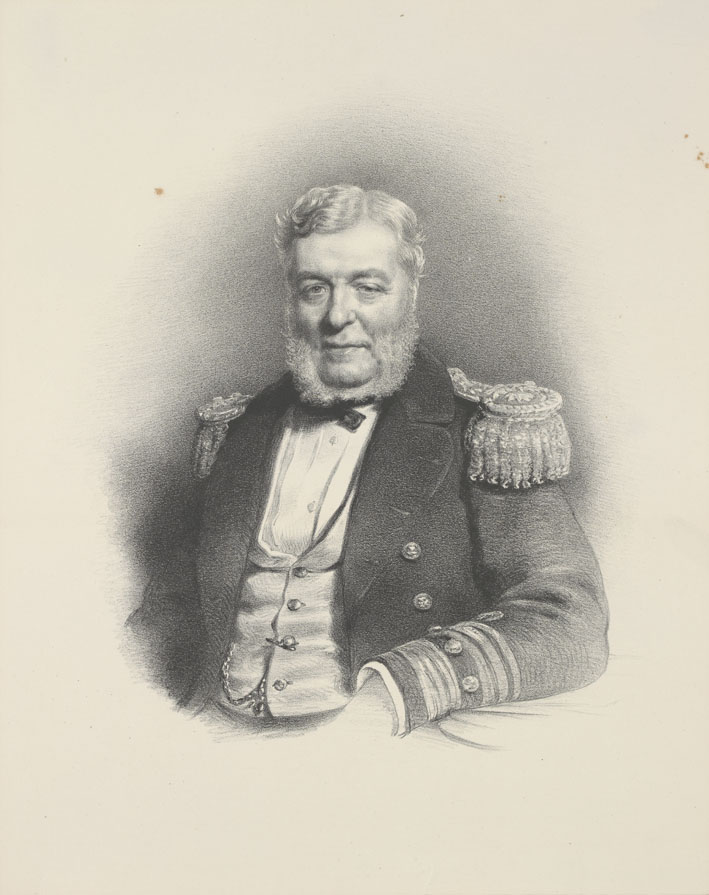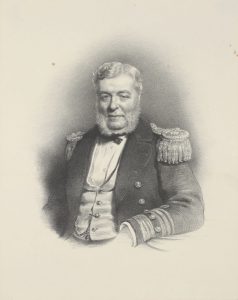 Vintner, John (c.1828-1905; English), after Pearce, Stephen (1819-1904; English)
Admiral John Lort Stokes
Lithograph, 36 x 29.5 cm
Presented by the sitter, 1881
State Library of Victoria (H5227)
Stokes (1811-85) travelled on HMS Beagle for many years, including Charles Darwin's second voyage of 1831-36 (recorded in 1839). In 1846, Stokes published his own account of a subsequent voyage, Discoveries in Australia,… during the voyage of the Beagle, 1837-1843. He was promoted to the rank of admiral in 1877.
The original oil portrait by Pearce, c.1879, is in the National Maritime Museum at Greenwich.
Refs.
AR 1881, p.55; NGV 1894, p.127 (V.Buvelot Gallery, south wall, no.8); NGV 1905, p.151 (V.Buvelot Gallery, south wall, no.9) 
The SLV catalogue suggests a date of c.1865
For Stokes, with a reproduction of the oil portrait by Pearce, see http://en.wikipedia.org/wiki/John_Lort_Stokes. For Pearce, see also Bénézit 10, pp.1049-50 and http://en.wikipedia.org/wiki/Stephen_Pearce; Vintner is not listed in Bénézit