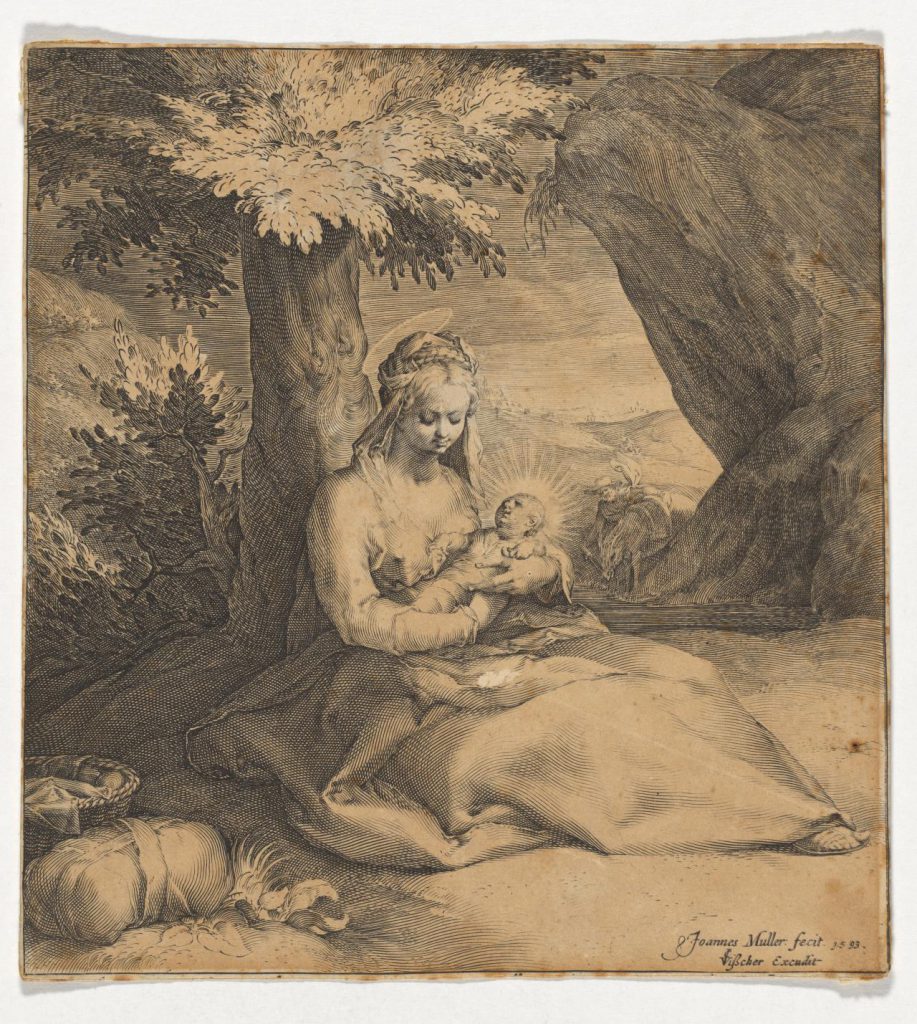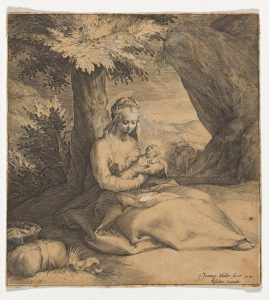 Visscher, Claes Jansz. (1587-1652; Dutch), after Muller, Jan Harmensz. (1571-1628; Dutch)
Virgin & Child (1593 & later)
Engraving
Purchased 1900 (advice of Bernard Hall)
National Gallery of Victoria (73-2)
Muller, who studied with Goltzius, and was related by marriage to the Dutch Mannerist sculptor Adrian de Vries, worked in an  Italianate style. Several other engravings by him, acquired after 1905, are in the NGV collection.
This appears to be a later edition of Muller's original print of 1593, modified and published by Visscher in the 17th century: his signature is added below Muller's at lower right. For details, see the catalogue of Muller's prints by Kok (1994-95), as noted below.
Refs.
AR 1900, p.29; NGV 1905, p.121 (V.Buvelot Gallery, 3rd bay, no.21: as by Jan Muller) [£0/10/6] 
The NGV catalogue lists this print under Johannes Muller (with a good reproduction )

For Muller's 1593 print and the present variant, see in particular Jan Piet Filedt Kok, "Jan Harmensz.Muller as Printmaker," Print Quarterly XI.3 (1994), pp.223-64; XI.4 (1994), pp.351-78; and XII.1 (1995), pp.3-29, esp.pp.4 (reproducing Muller's original print) and 5 (catalogue: B.6/H.15), listing Visscher's version as a later edition. For another impression of this print (British Museum, 1853,0312.9), see https://www.britishmuseum.org/research/collection_online/collection_object_details.aspx?objectId=1487343&partId=1&people=104053&peoA=104053-2-70&page=5 (illustrated)
For Muller, see also Bénézit 10, pp.8-9; AKL 91 (2016), pp. 243-44; http://www.getty.edu/art/collection/artists/543/jan-harmensz-muller-dutch-1571-1628/; and, for other Muller prints in the NGV, http://www.ngv.vic.gov.au/explore/collection/artist/3468/. For Visscher, see e.g. https://en.wikipedia.org/wiki/Claes_Jansz._Visscher (accessed 21 Sept.2019)