Walker, Edmund (active from 1836; d.1882; English), after Gilfillan, John Alexander (1793-1864; English/New Zealander)
Interior of a Native Village or "Pa" in New Zealand (c.1852)
Chromo-lithograph, c.48 x 64.4 cm
Acquired by 1871
Present location unknown
Gilfillan arrived in New Zealand with his family in 1841, and lived near Putiki Pa, situated at the town of Petre, near Wanganui. Later, he fell out with local Maoris, who attacked him and his family in 1847, killing his wife and three of his children. After relocating to Sydney, he produced the painting on which this print was based; the canvas, shown in the New Zealand Court of the Great Exhibition in London in 1851, is now lost.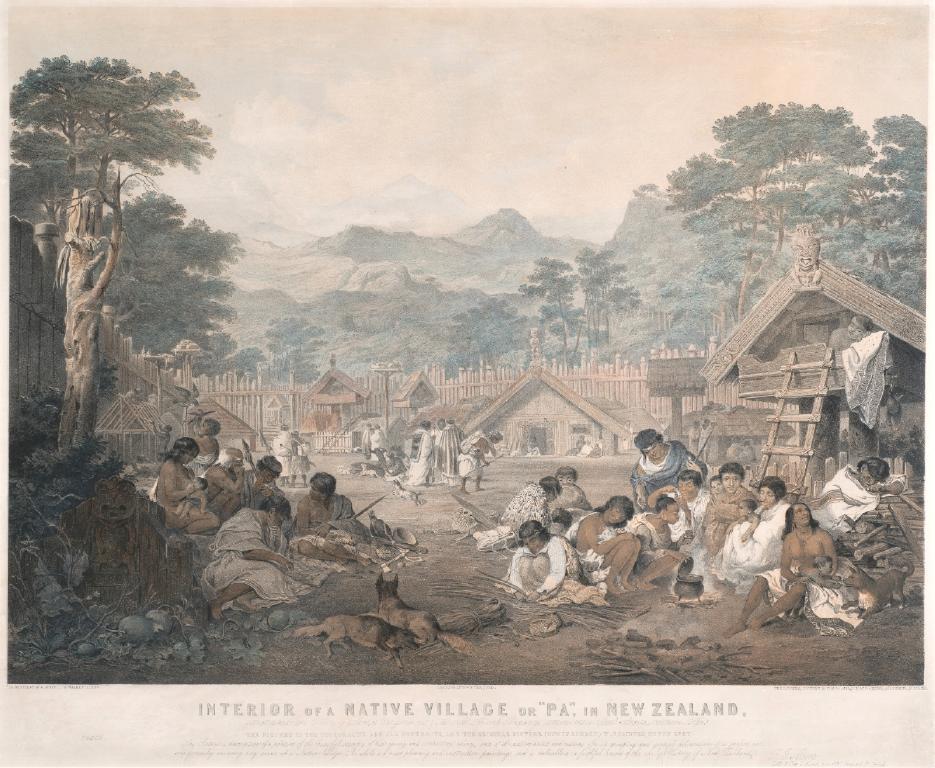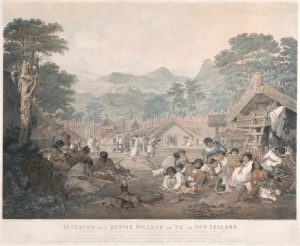 The Auckland Art Gallery, which acquired the impression reproduced here in 1998, mentions an inscription describing Gilfillan's painting as formerly in the possession of "F.G.Moore, late of New Zealand, now of 30 Arundel St. Strand." The Auckland gallery also notes that the intimate details visible in this scene were not normally seen by non-Maoris (pakeha).
Gilfillan, who subsequently made a series of sketches of the Victorian gold-fields, eventually settled in Melbourne in 1856.
[comparative photo: Auckland Art Gallery impression]
Refs.
MPL Summary Report 1871, p.35 (under prints); NGV 1894, p.114 (V.Buvelot Gallery, 3rd bay, no.31); NGV 1905, p.131 (V.Buvelot Gallery, 3rd bay, no.30) 
The inscriptions indicate that the lithograph was printed by Day & Son, lithographers to the Queen. For the impression reproduced here, see http://www.aucklandartgallery.com/explore-art-and-ideas/artwork/8121/interior-of-a-native-village-or-pa-in-new-zealand (Auckland Art Gallery Toi o Tamaki, The Ilene and Laurence Dakin Bequest, purchased 1998; with details noted above). For further information noted here, see also http://www.fletchercollection.co.nz/exhibition/turning-points/category3/john-gilfillan-2.php (reproducing another impression, described as hand-coloured) 
For Gilfillan, see Kerr Dictionary (1992), pp.293-94 (entry by Edith Frame); Bénézit 6, p.177; AKL 54 (2007), pp.89-90; and http://www.nzhistory.net.nz/media/photo/john-alexander-gilfillan. For examples of his Victorian gold-fields images (c.1852-3), see e.g. SLV H25126 and http://trove.nla.gov.au/people/1229115?c=people 
Walker was active as a lithographer, working especially for Day & Son, see Bénézit 14, p.576 and http://www.metmuseum.org/collection/the-collection-online/search/356571 (with the biographical dates noted here)