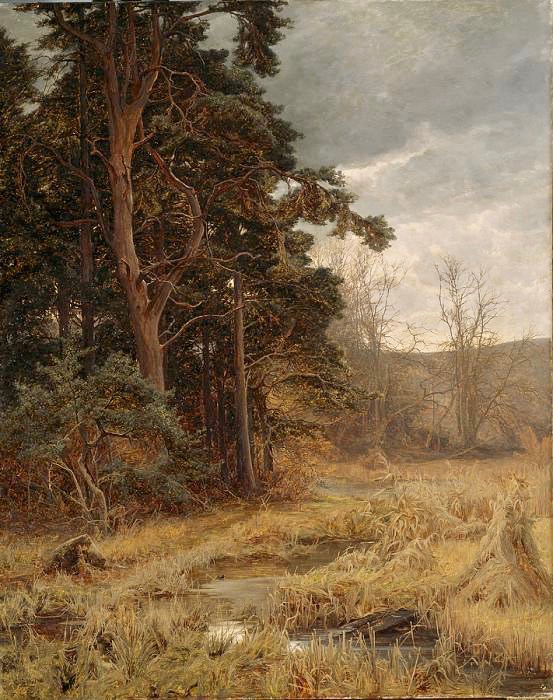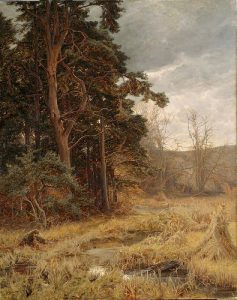 Walton, Frank (1840-1928; English)
'Summer has gone on swallows' wings' (c.1890)
Oil on canvas, 152.7 x 121.8 cm
Purchased, 1892
National Gallery of Victoria (p.398.2-1)
The 1894 NGV catalogue indicates that this landscape was shown at the Royal Academy in 1891, and notes that the artist was a member of the Royal Institute of Painters in Water-Colours. Comparable paintings are held in various British collections, and regularly appear at auction in England.
The title modifies the opening lines of "The Departure of Summer," by English Romantic poet Thomas Hood (1799-1845).
Refs.
AR 1892, p.23; NGV 1894, p.29 (I.La Trobe Gallery, no.39; ill.); NGV 1905, p.32 (I.La Trobe Gallery, no.58) [£300] 
For Walton, see Bénézit 14, p.607; for reproductions of comparable works, see http://www.bbc.co.uk/arts/yourpaintings/artists/frank-walton-15374 and http://www.artnet.com/artists/frank-walton/past-auction-results.  Hood's poem begins: "Summer is gone on swallows' wings, / And Earth has buried all her flowers…": see e.g. http://www.readbookonline.net/readOnLine/15958/