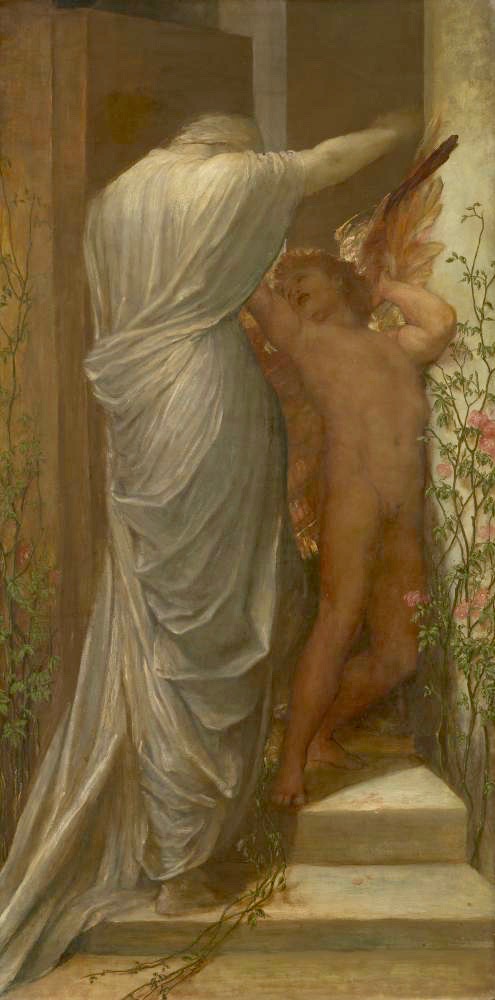 Watts, George Frederic (1817-1904; English)
Love and Death (c.1887)
Oil on canvas, 114.3 x 57.3 cm
Purchased, 1888
National Gallery of Victoria (p.312.5-1)
One of several variants by Watts of this classic late Victorian subject (there is also a late example in the AGSA), this canvas was bought from the Centennial Exhibition in Melbourne in 1888, together with Watts' portrait of Tennyson.
The original version of Love and Death, exhibited at the Grosvenor Gallery in 1877, was described by Oscar Wilde as follows: "…though the face of death is hidden from us, yet we can see from the terror in the boy's eyes and quivering lips, that Medusa-like, this grey phantom turns all it looks upon to stone; and the wings of love are rent and crushed."
Similar comments were included in the 1894 NGV catalogue, in describing this version. NGV 1905 emphasized that this is "a replica."
Watts' heavily symbolic images lost favour after his death, but his reputation has been recuperated in more recent years.
Refs.
AR 1887, p.34; NGV 1894, p.21 (I.La Trobe Gallery, no.25; ill.); NGV 1905, p.17 (I.La Trobe Gallery, no.30) [£840] 
For this work, see also Gott 19C (2003), pp.84-85 (entry by Laurie Benson); and Victorian Olympians (1975), cat.43. See also Alison Inglis, "Aestheticism and Empire: The Grosvenor Gallery Intercolonial Exhibition in Melbourne, 1887," in Kate Darian-Smith & others (ed.), Seize the Day: Exhibitions, Australia and the World, Monash University e-press, 2006 (ch.16): http://books.publishing.monash.edu/apps/bookworm/view/SEIZE+THE+DAY/123/xhtml/chapter16.html (including further references on Watts)
For Oscar Wilde's comments on the 1877 original (now Whitworth Art Gallery, University of Manchester), see http://www.mr-oscar-wilde.de/about/w/watts.htm
For the version in Adelaide, purchased in 1901, the year it was painted, see Victorian Olympians (1975), cat.44; and  http://www.artgallery.sa.gov.au/agsa/home/Collection/detail.jsp?ecatKey=12642