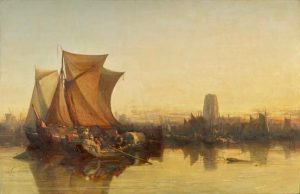 Webb, James (1825-95; English)
Rotterdam at Sunset 1868
Oil on canvas, 198.0 x 305.0 cm
Purchased, 1869 (advice of Alfred Thomson)
National Gallery of Victoria (p.302.1-1)
This serene, large-scale work by Webb, a marine landscape specialist, was one of the first paintings bought on Thomson's advice. NGV 1905 notes that there is a smaller painting by Webb with the same title.
Refs.
AR 1870A, p.187, Schedule XLII (as purchased 1869); NGV 1875, p.44; NGV 1894, p.41 (I.La Trobe Gallery, no.54; ill.); NGV 1905, p.25 (I.La Trobe Gallery, no.47) [£500]