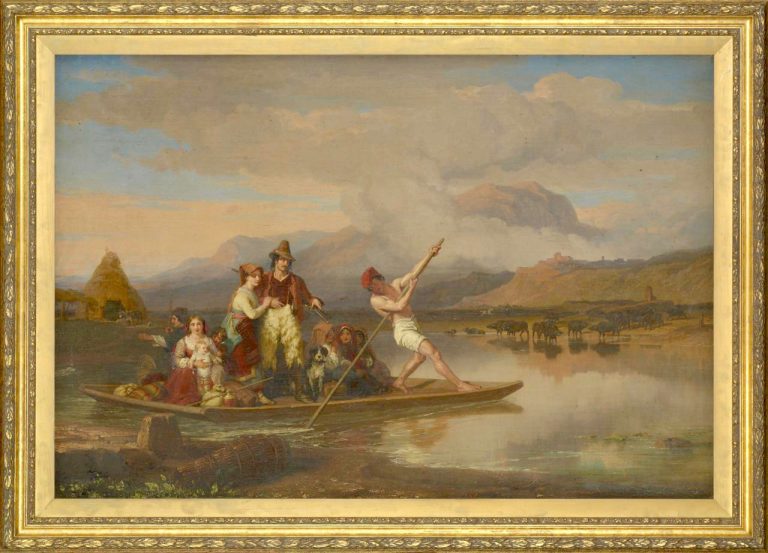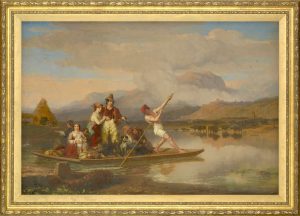 Williams, Penry (1802-85; Welsh)
The Italian Family – Ferry on the River Ninfa 1834
Oil on canvas, 87.3 x 126 cm
Purchased by the Commissioners of Fine Arts for Victoria (advice of Charles Eastlake), 1864
National Gallery of Victoria (p.301.10-1)
This academic work was painted in Rome, where the artist worked for his entire career, having settled there in 1827, after studying with Fuseli and others.
NGV 1894 notes that he frequently exhibited work of this type in England, other examples being held in the National Gallery in London (now the Tate).
Refs.
NGV 1894, p.96 (IV.McArthur Gallery, no.65); NGV 1905, p.161 (IX.Pictures on loan to country galleries) [£89/5] 
For the artist, and other examples of his work, see Bénézit 14, p.934 (giving his birth date as 1798); see also  https://en.wikipedia.org/wiki/Penry_Williams_%28artist%29 and http://artuk.org/discover/artists/williams-penry-17981885