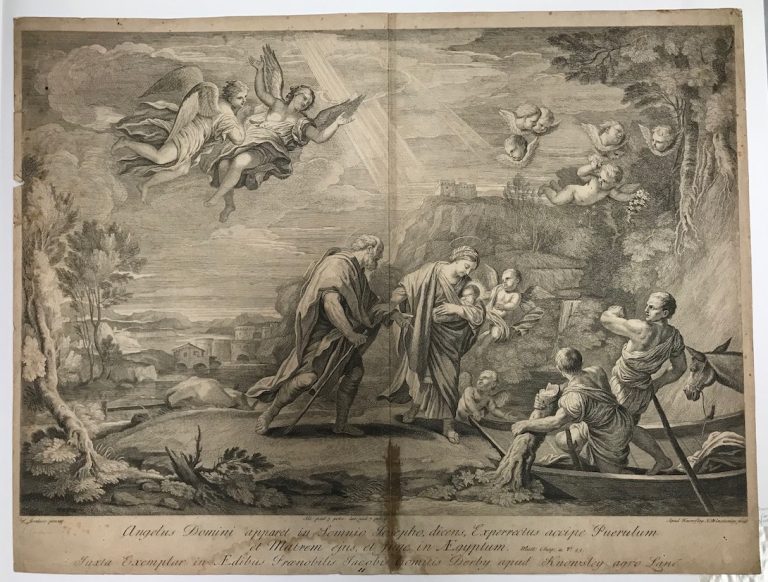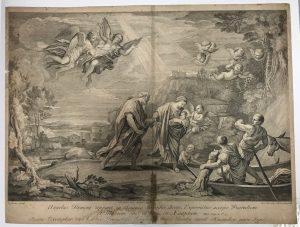 Winstanley, Hamlet (c.1694-1756; English), after Giordano, Luca (1634-1705; Italian)
The Flight into Egypt 1728
Etching, 48 x 63 (sheet)
Acquired by 1868
National Gallery of Victoria (p.178.17-1)
This work appears in the NGV's online catalogue as an etching by an unknown artist after Giordano, the noted Italian Baroque painter, identified in the Latin inscription at lower left (L.Jordanz pinxit). Unfortunately, the print is in mediocre condition, with damage clearly caused by an old attempt to repair the central fold at the back.
The other inscriptions below the image provide further clues as to the work's authorship and origins. The main title indicates that the print reproduces a painting then held at Knowsley Hall in the collection of the Earl of Derby (called "Jacobi," i.e. James Stanley, 10th Earl, 1702-36). The print-maker is named at lower right as H.Winstanley.
The original painting, ascribed to Giordano, c.1682, is now in the Eskenazi Museum of Art at Indiana University, having been acquired by donation in 1975, some years after its sale at the Lord Derby collection auction at Christie's in 1940. In its detailed information on the painting's provenance, the Indiana museum suggest that it may have been purchased for Stanley in Italy by Hamlet Winstanley, a noted English painter, engraver and art-dealer who was trained by Godfrey Kneller and himself later (briefly) taught George Stubbs.
Winstanley, who was employed by Stanley from the early 1720s onwards, including an extended visit to Italy from 1723-5, was well known for the series of etchings he produced, mostly in 1728-29, known as the "Knowsley Gallery," which included reproductions of a number of the Earl's Old Master paintings.
Refs.
Not listed in NGV 1894 or 1905
For the NGV impression (possibly although not certainly one of the prints donated by John Pascoe Fawkner in 1868), see https://www.ngv.vic.gov.au/explore/collection/work/36877 (not reproduced); author's ID photo reproduced here. Another impression, dated to 1728, and credited to both Winstanley and Giordano, is held by the Fine Arts Museums of San Francisco (acc.no.1963.30.11172): see https://art.famsf.org/hamlet-winstanley/angel-telling-joseph-flee-egypt-19633011172 (accessed 20 July 2020). The Boydells' Alphabetical Catalogue… (London, 1803; available through Google Books), p.14, also lists an impression, priced at 10/6
For the history of the painting in Indiana, see https://artmuseum.indiana.edu/provenance/view.php?id=299 (accessed 10 July 2020); and for general information on Giordano, see e.g. Bénézit 6, pp.220-24 and AKL 54 (2007), pp.418-22
For Winstanley, see https://en.wikisource.org/wiki/Winstanley,_Hamlet_(DNB00) (reprinting the entry by Thomas Seccombe in the Dictionary of National Biography, 1885-1900, vol.62); and http://collections.vam.ac.uk/item/O69585/hamlet-winstanley-1694-1756-relief-gvdr/ (these sites also accessed 10 July 2020); estimates of the exact date of his birth vary somewhat in these different sources. Wikipedia also provides further information on Knowsley Hall and the Earls of Derby