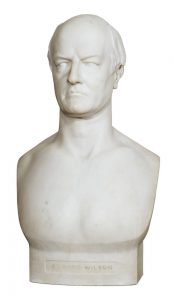 Woolner, Thomas (1825-92; English)
Edward Wilson 1868 Marble, 80 x 37 x 18 cm
Presented by subscribers, 1868; transferred from NGV to SLV, 1943
State Library of Victoria (LTS 43)
This bust epitomizes the earlier career of the sitter (1813-78), editor of the Argus from 1848, and a vociferous critic of vested interests in mid 19th-century Victoria.
A later image of Wilson (an anonymous 1878 engraving) depicts him as far less vigorous, reflecting problems he began to experience with his health in middle age, leading him to retire to England in 1862.
Refs.
SB, p.64 (Busts); NGV 1880, p.3; NGV 1894, p.132 (VI.Rotunda, no.35); NGV 1905, p.156 (VI.Sculpture [Verdon Gallery], no.18)
See SLV Art of the Collection (2007), p.25, and SLV online catalogue, both with photos. For Wilson, see http://adb.anu.edu.au/biography/wilson-edward-4866 (Geoffrey Serle; ADB vol.6, 1976), including a reproduction of the 1878 engraving of him (La Trobe Picture collection, SLV, A/S16/02/78/180)