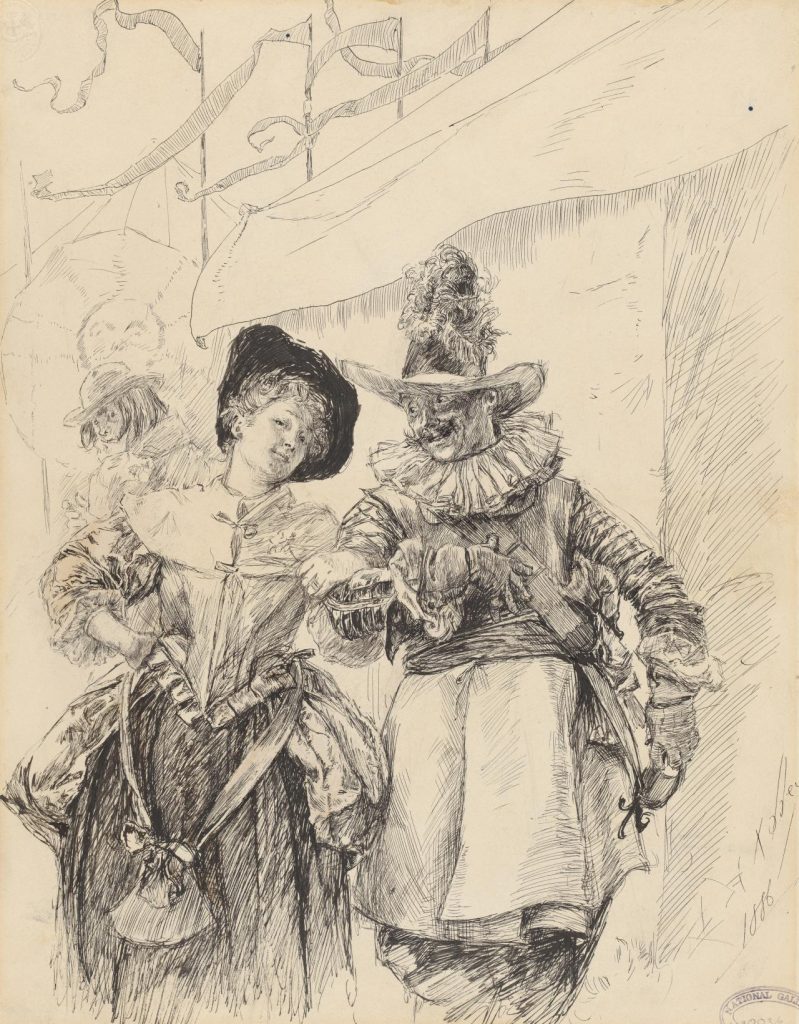 Abbey, Edwin Austin (1852-1911; American/English)
Phillida Flouts Me 1886
Pen and ink on paper, 37 x 28.8 cm (image), 38 x 30.4 cm (sheet) 
Purchased 1895 (advice of Joseph Pennell)
National Gallery of Victoria (3-2)
Abbey, a well-known illustrator, born in Philadelphia, lived mostly in England after 1883. According to NGV 1905, the title of this drawing (dated 1886 at lower right) is the name of a traditional ballad, subtitled "The Country Lover's Complaint"). The work formed part of a series of illustrations of "Old Songs" produced by Abbey for Harper's Weekly (1886-88) and published in 1889.
Abbey painted the Holy Grail murals in the Boston Public Library (1890s), and was working on murals for the new Pennsylvania State Capitol in Harrisburg when he died.
Refs.
AR 1895, p.25; NGV 1905, p.54 (II.Stawell Gallery, no.69; ill.; size given as 14.5 x 11.5") [£30]
Many thanks to Ted Gott for forwarding information details on this work (Oct.2019). For Abbey, see AKL I (1983), pp.57-59 and Bénézit I, 30 (both mentioning the NGV as holding his work); and http://en.wikipedia.org/wiki/Edwin_Austin_Abbey, all with further references. For the text of Phillida Flouts Me (mentioned in Izaac Walton's Compleat Angler, 1653), see Joseph Ritson & Joseph Frank, Ancient songs and ballads, from the reign of King Henry the Second to the Revolution, London, 1829, pp.268-71 (available online)