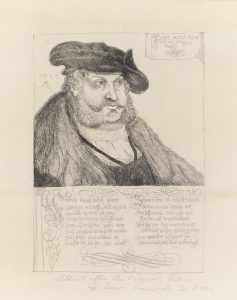 Albert, Prince (1819-61; German/English), after Cranach, Lucas the Elder (1472-1553; German)
Frederick III, Elector of Saxony 1840
Etching on chine collé, 19.4 x 13.8 cm (image), 25 x 20.1 cm (plate), 53.8 x 37.8 cm (sheet)
Gift of Queen Victoria, 1893
National Gallery of Victoria (p.192.8-1)
The plate is inscribed at the lower margin "Albert after the Original Picture by Lucas Cranach Dec 1st 1840". The print reproduces a painting of 1532 (there are several extant variants with this date, in Regensburg, Weimar etc.).
Refs.
NGV 1894, p.68 (III.Vestibule, no.3); NGV 1905, p.107 (IV.Vestibule, no.17)
For the various portraits of Frederick III by Cranach, see e.g. https://commons.wikimedia.org/wiki/Category:Portraits_of_Friedrich_III._(Cranach) (accessed 14/10/18); see also the general entries on Cranach in Bénézit 4, pp.149-53, and AKL 22 (1999), pp.168-73 (with a large bibliography)