Altson, Aby (1866-1948; English/Australian), after Rembrandt van Rijn (1606-69; Dutch)
An Old Man
Oil on canvas, c.96.5 x 81.3 cm
Presented by the artist under the terms of the National Gallery of Victoria Travelling Scholarship, 1894
Unidentified, location unknown
The 1895 annual report and NGV 1905 both describe this work as copied from a painting in the National Gallery, London.
Altson's canvas, made under the terms of the scholarship awarded to him in 1890, is no longer in the Melbourne collection, and no photos have been found, making identification of the original difficult. However, the only plausible candidate appears to be Elderly Man as St Paul (NG 243), bequeathed to London in 1854, and accepted by modern scholars as painted by Rembrandt in about 1659. It measures 102 x 85.5 cm, which is close to the dimensions indicated in NGV 1905 for Altson's painting  (Travelling Scholarship copies were normally equal in size to their originals).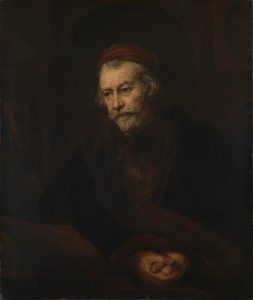 [photo: Rembrandt Elderly Man as St Paul, c.1659 (London NG 243)]
Refs.
AR 1895, p.27; NGV 1905, p.140 (V.Buvelot Gallery, 6th bay, no.5: as measuring 38" x 32")
For NG 243, see David Bomford & others, Rembrandt (Art in the Making), new edition, London, 2006, cat.16 (bequeathed by Lord Colbourne); other possible candidates in London, either by or attributed to Rembrandt, are of different dimensions or acquired later: see Bomford 2006, cat.15, 25 and 26