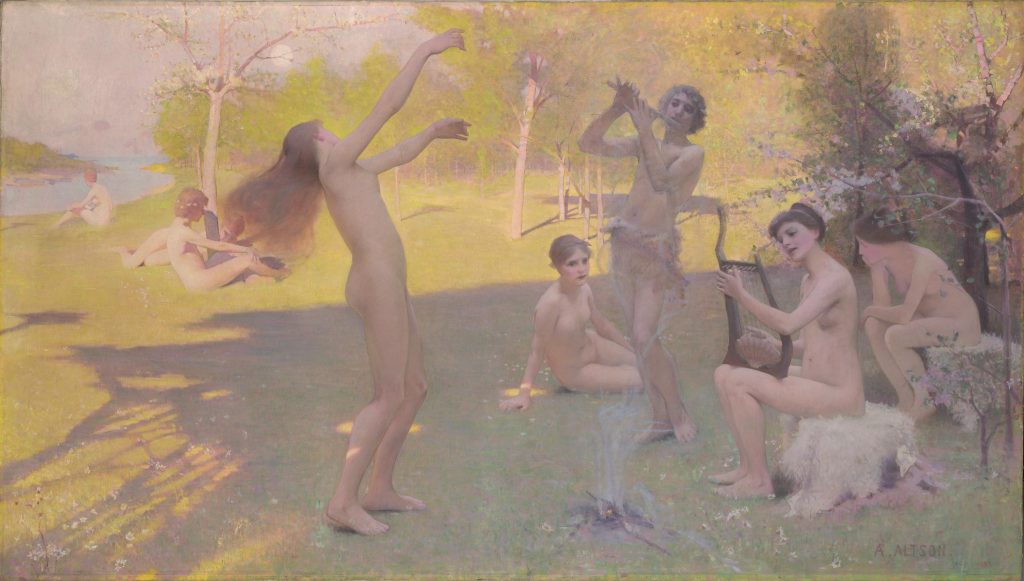 Altson, Aby (1866-1948; English/Australian)
The Golden Age 1893
Oil on canvas, 141.5 x 250.5 cm
Acquired under the terms of the National Gallery Travelling Scholarship, 1895
National Gallery of Victoria (no.6-2)
This "vivacious slice of camp paganism" (McDonald 2008) was painted in France, where Altson worked after receiving the Travelling Scholarship for 1890. See also separate entries for the Rembrandt and van Dyck copies made by the artist under the terms of this award.
The Arcadian scene shows the influence of various late 19th-century French aesthetic ideas, from the Salon to Seurat, adding what might be seen as a characteristically Australian sense of light – although most of the work on the painting was apparently carried out on the island of Noirmoutier, just off the French west coast.
Refs.
AR 1895, p.27; NGV 1905, p.85 (III.McArthur Gallery, no.12; ill.) 
The NGV catalogue also includes information on, and a reproduction of the frame, made in Paris c.1893-95; see also McDonald, Art of Australia, vol.1 (2008), pp.330 (with a good colour reproduction) and 331 (quoted). The DAAO biography, http://www.daao.org.au/bio/abbey-altson/biography/ (by an anonymous writer), includes quotes from an 1898 Bulletin article describing the artist painting this work on Noirmontier (sic)