Arnz, Albert (1832-1914; German)
Still Life
Oil on panel, c.52 x 43 cm
Purchased, 1889; de-accessioned and sold at auction, Oct.1941
Unidentified; present location unknown
This panel, bought after being shown at the 1888 Centennial International Exhibition in Melbourne, is described in the NGV's 1889 annual report as "study of partridge." The artist apparently worked mainly as a landscapist, and was active in both Germany and Italy.
This work was de-accessioned as part of the general purge of the collection carried out after Daryl Lindsay became NGV Director in March 1941.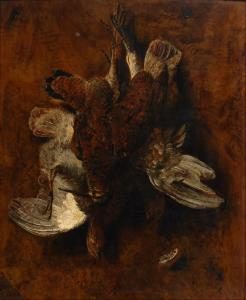 [comparative work: Jagdstilleben 1901 (auctioned 2018)]
Refs.
AR 1889, p.41; SB, p.313 (with an added note regarding the 1941 auction); NGV 1894, p.71 (IV.McArthur Gallery, no.3; size given as 20 x 17 inches); NGV 1905, p.91 (III.McArthur Gallery, no.34) [£60]
For the artist, see AKL 5 (1992), p.259 and Bénézit 1, p.713 (listing the NGV picture); and for reproductions of other examples, see e.g. http://www.blouinartinfo.com/artists/albert-arnz-11767 (landscapes) and http://www.arcadja.com/auctions/de/arnz_albert/kunstler/61052/ (including the still life of three dead birds reproduced above, a work on panel, 54 x 44 cm, auctioned by Wendl, Rudolstadt, 1 March 2018)