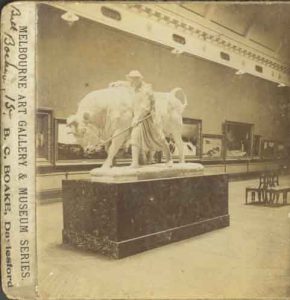 Boehm, Joseph (1834-90; Austrian/English)
Young Bull and Herdsman (c.1876?)
Marble, size unknown
Purchased, 1888; de-accessioned, 1941
Royal Melbourne Showgrounds
This massive group was bought for £1,000, after having been shown at the Centennial Exhibition in Melbourne. Initially located in the Public Library's Rotunda (for a photograph, see Sculpture – Introduction), it was later placed prominently in the LaTrobe Gallery: see NGV 1894 and 1905, and the "stereograph" by Boake reproduced here, dating from 1905 or soon after.
In 1941, the group was de-accessioned by the new NGV director Daryl Lindsay, and moved to the headquarters of Melbourne's Royal Agricultural Society, where it has been exhibited, outdoors, ever since. In his 1978 survey of Australian sculpture (which mentions Boehm as an important early influence), Graeme Sturgeon reproduces a photo of the work at the Showgrounds.
Refs.
AR 1888; NGV 1894, p.42 (I.LaTrobe Gallery, no.56; ill.); NGV 1905, p.35 (I.LaTrobe Gallery, no.65; ill.)
Sturgeon Australian Sculpture (1978), p.37 (ill.). The dating of Boake's photograph to c.1905 is based on the fact that the paintings visible behind Boehm's statue follow the same sequence as the catalogue published in that year.