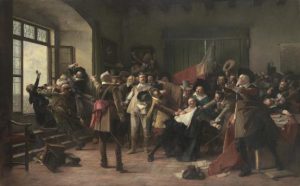 Brozik, Václav (1851-1901; Bohemian)
The Defenestration, 1618 (1889)
Oil on canvas, 132.7 x 210.6 cm
Purchased, 1890
National Gallery of Victoria (p.316.1-1)
Brozik, well known in his day as a painter of portraits and historical subjects, worked in both Prague and Paris. This work, typical of the later 19th-century taste for theatrical re-enactments of historical events, shows revolting Protestants flinging the Catholic regents of Bohemia from the Prague castle windows, initiating the Thirty Years' War (1618-48).
A lengthy account of the historical event, and the central protagonists, was entered in the NGV's stock-book when the work was bought (for the substantial sum of £1,500), and some of these details were also included in the 1894 and 1905 NGV catalogues.
NGV 1894 indicates that the Melbourne canvas was shown at the Paris Exhibition in 1889. Conversely, NGV 1905 suggests that the work shown in Paris was "a life-sized replica of this picture, 22 ft.by 15 ft., slightly different in composition." That larger painting (15 x 22 feet equates to about 4.6 x 6.7 metres) was presumably the version documented as shown at the 1893 World's Fair in Chicago – where everything was big; it is unclear whether that painting still exists.
In 2004, the present canvas was included in Heroes, Traitors, War and Mayhem, an exhibition staged at the Ballarat Fine Art Gallery, complementing Eureka Revisited, an exhibition commemorating the 150th anniversary of the Eureka Stockade. Ballarat director Gordon Morrison was quoted at the time as saying that Brozik's picture is a "classic example of 19th-century nationalist painting," and also that this was the first time in 50 years that the work had been exhibited.
Refs.
AR 1890, p.42; SB, pp.316-18; NGV 1894, pp.17-18 (I.La Trobe Gallery, no.17; ill.); NGV 1905, pp.31-32 (I.La Trobe Gallery, no.56; ill.) [£1,500] 
The NGV catalogue also notes the purchase of this work in Melbourne through Koekkoek & Sons); see also Dean European paintings of the 19th and early 20th centuries (1995), p.33. For the Ballarat exhibitions, and the Gordon Morrison quote, see http://www.theage.com.au/news/Arts/The-art-of-the-uprising/2004/11/26/1101219734283.html. For the artist, see Bénézit 2, p.1280 (as Broczik); and AKL 14 (1996), p.449 (listing the present work). See also http://www.radio.cz/en/section/czechs/vaclav-brozik-one-of-the-last-great-painters-of-historical-themes, a translated transcript of a 2003 Czech broadcast. See also Catalogue of paintings by Vacslav Brozik, Wanamaker Art Gallery, 1902, cat.no.205 ('Reduction of the large painting, "Revenge of the Cavaliers of Prague",' also known as "The Defenestration of Prague"), possibly alluding to the NGV canvas, although no collection details are given: see https://archive.org/stream/frick-31072001464389#page/n41/mode/2up
For the Brozik Defenestration shown in Chicago in 1893, see http://www.franzferdinandsworld.com/tag/world-fair/. Bénézit (as cited above) mentions a painting with the same title in Dublin, but there seems to be no reference to such a work in the National Gallery of Ireland's current website