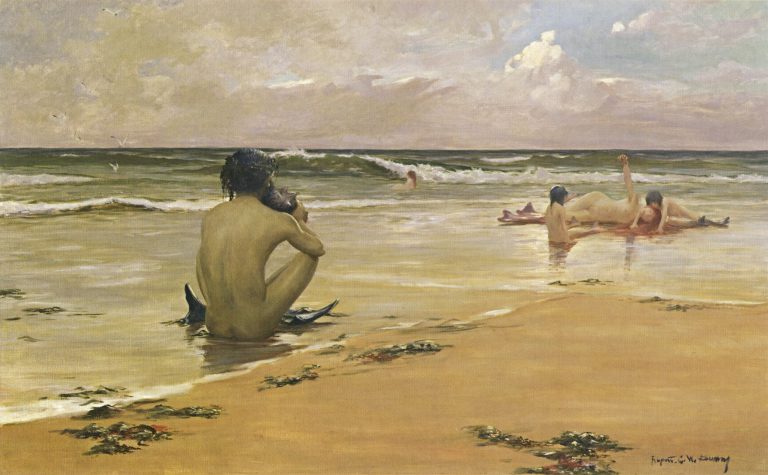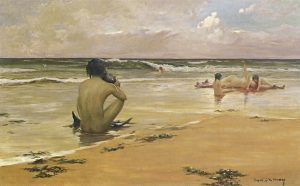 Bunny, Rupert (1864-1947; Australian)
Sea Idyll (c.1891)
Oil on canvas, 100.5 x 161.5 cm
Gift of Alfred Felton, 1892
National Gallery of Victoria (p.399.1-1) 
This racy picture in the French Salon style, the only work Felton gave to the NGV during his lifetime, was also the sole Australian painting hanging in the NGV's La Trobe Gallery in the late 19th and early 20th centuries (otherwise devoted to international paintings).
The artist, the son of a Melbourne judge who was a family friend of Felton's, trained under George Folingsby at the National Gallery School and then visited Paris. After being left an annuity in Felton's will, he moved permanently to France, and worked there successfully for many years, only returning to Australia in 1933. A retrospective of his work was held at the NGV in the year before he died.
The frame of this work, made in Melbourne by Isaac Whitehead Junior in c.1892-3, was restored to this canvas only recently, having been sold off in a job lot in 1941, and then recovered in 1998.
Refs.
AR 1892, p.24; SB, p.399 (as presented in Sept.1892; valued at £105); NGV 1894, p.39 (I.La Trobe Gallery, no.51; ill.); NGV 1905, p.29 (I.La Trobe Gallery, no.53; ill.) 
The NGV catalogue entry also discusses and reproduces the frame.
For the artist, see http://adb.anu.edu.au/biography/bunny-rupert-charles-wulsten-5422 (biography by David Thomas, first published in ADB vol.7, 1979); AKL 15 (1997), p.147 (entry by Daniel Thomas & Robert Smith); and Bénézit 3, pp.15-16. For Felton's relationship with Bunny and his family, see also Poynter Mr Felton's Bequests (2003/2006), pp.154 and 204