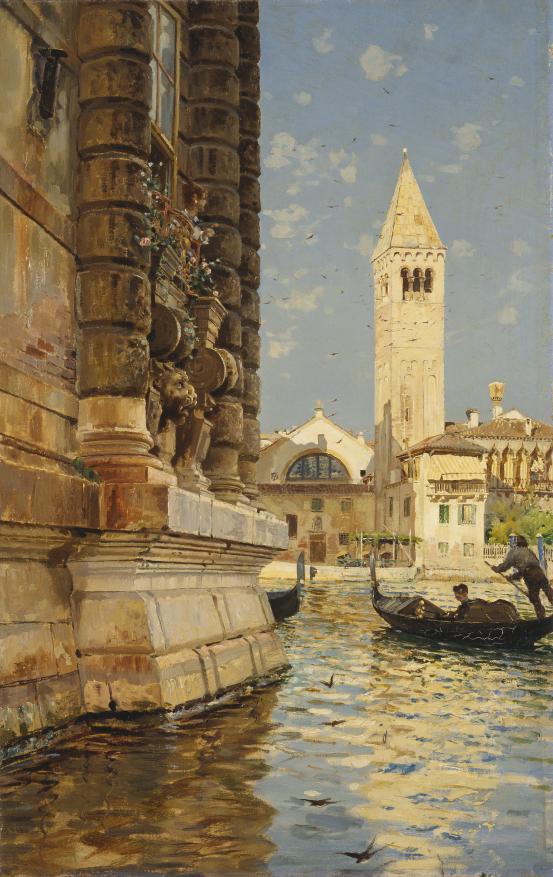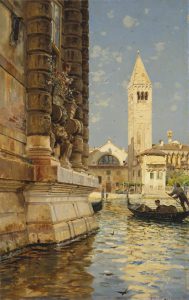 Campriani, Giovanni (b.1878; Italian)
On the Grand Canal, Venice
Oil on canvas, 57.4 x 37.0 cm
Bequest of Alfred Felton, 1904
National Gallery of Victoria (142-2)  
A typical tourist view of Venice by this artist, whose dates vary somewhat in different sources.
Born in Naples, he followed the example of his father and teacher Alceste Campriani (1848-1933), a contemporary of De Nittis.
Giovanni appears to be documented mainly between 1902 and 1910. Comparable works appear regularly on the Italian art market.
Refs.
AR 1904, p.26; NGV 1905, p.22 (I.La Trobe Gallery, no.41) 
This work is listed in Dictionary of Italian artists [Victoria] (1984), p.28, giving the artist's dates as 1880-? For Campriani, see also AKL 16 (1997), p.71; Bénézit 3, p.287 (also giving his birth date as 1880); and http://www.istitutomatteucci.it/it/dizionario-degli-artisti/campriani-giovanni