Dayes, Edward (1763-1804; English), after Hunter, John (1737-1821; English)
View of the Settlement on Sydney Cove, Port Jackson 1792
Engraving, approx. 20.2 x 25.0 cm (plate), 23.5 x 29.0 cm (sheet)
Presented by John Lee, date unknown (by 1894) 
Present location unknown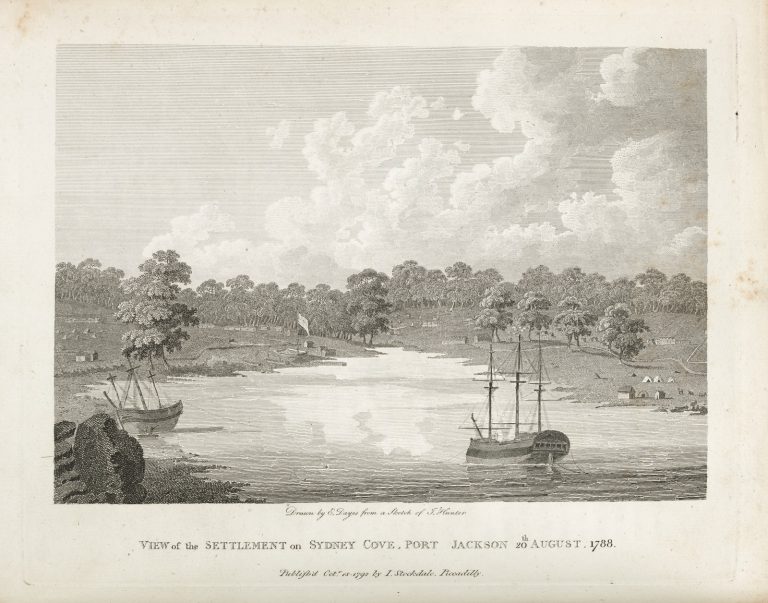 [photo: SLV impression]
There are some discrepancies between the details listed in NGV 1894 and 1905 (the latter lists it as "View of Sydney Cove, New South Wales, 1804. Drawn by E.Dayes from a picture painted in the Colony; engraved and published by F.Jukes"), and those noted for an engraving of the same subject now in the SLV (reproduced here).
The SLV print is described as engraved by Dayes after John Hunter, dated 1792, and included in Hunter's Historical Journal of the transactions at Port Jackson and Norfolk Island, Piccadilly: J.Stockdale, 1793.
Dayes was a watercolourist, several of whose landscape views were engraved by Francis Jukes (1745-1812): e.g. Salisbury Cathedral 1798. For Hunter, see linked artist entry.
Refs.
NGV 1894, p.113 (V.Buvelot Gallery, 3rd bay,no.26); NGV 1905, p.130 (V.Buvelot Gallery, 3rd bay, no.28) 
For the SLV impression (acc.no.30328102131603/4), see online catalogue (details and reproduction as noted above). For Dayes, see Bénézit 4, pp.516-17 and AKL 25 (2000), pp.2-3; see also https://en.wikipedia.org/wiki/Edward_Dayes, including a reproduction of the Salisbury Cathedral print by Jukes, for whom see https://en.wikipedia.org/wiki/Francis_Jukes
A "drawing" of Sydney in 1804, noted in AR 1870-71, p.34 (and also in PF under 1868: acc.no.p.164.10-1) may also be relevant here