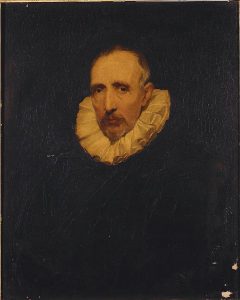 van Dyck, Anthony (1599-1641; Flemish) (after)
Cornelis van der Geest
Oil on wood panel, 82.5 x 67.6 cm
Bequest of Alfred Felton, 1904
National Gallery of Victoria (149/2)
The 1905 NGV catalogue describes this panel as an anonymous copy of van Dyck's original in the National Gallery in London, painted c.1620, and acquired for London in 1824.
Hoff (1995) notes that the Melbourne picture is marred by discoloured varnish and flaking paint throughout, adding that it is the same size as the London painting, as it now exists. However, van Dyck's picture was originally smaller, showing only the head and shoulders of the sitter (an Antwerp merchant and art patron); it was apparently enlarged sometime before 1637.
Refs. 
AR 1904, p.26; NGV 1905, p.143 (V.Buvelot Gallery, 6th bay, no.20) 
See Hoff (1995), p.99 (details as noted; black and white photo).
For the London original, see http://www.nationalgallery.org.uk/paintings/anthony-van-dyck-portrait-of-cornelis-van-der-geest (noting the size of the original section of the work as 37.5 x 32.5 cm)