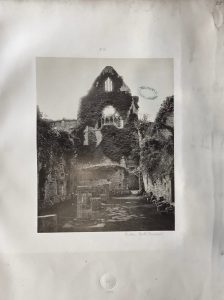 Fenton, Roger (1819-69; English), Bedford, Francis (1816-94; English), & others
Cathedrals and Abbeys in England and Scotland (c.1856-60)
31 albumen silver prints, 61.7 x 54 cm (album)
Purchased 1860
State Library of Victoria (H87.74/1-31)
[reproduction: Francis Bedford: Tintern Abbey (H87.74/28)]
This is probably the most impressive of the collections of photographs acquired for Melbourne in 1860 from the Architectural Photographic Association, London.
This album, assembled either by the London association or the Melbourne library, contains a considerable number of large-scale images by both Bedford and Fenton, together with others by Cade, Cocke, Frith; McLean, Melhuish, Napper & Co., and a photographer called "Greenish" (see fols.13, 16 and 21), presumably Thomas Greenish: see references below.
Although zealously-applied Melbourne Public Library stamps disfigure a number of the prints, they remain a significant group. Interestingly, the first photo in the album (which otherwise shows medieval Christian edifices) is of Stonehenge.
The detailed contents are as follows (some are by un-named photographers; some are dated, as shown) : f.1: Cocke: Stonehenge (1860); f.2: Bury St Edmunds. Norman Tower (1860); f.3: Bedford: Canterbury Cathedral. Baptistery (1860); f.4: Canterbury Cathedral. Norman Staircase; f.5: Fenton: Canterbury Cathedral – St Augustine Preaching (reproducing a relief sculpture by Thomas Phyffers); f.6: Fenton: Chichester Cathedral.Interior; f.7: Fenton: Ely Cathedral. Galilee Porch; f.8-9: Fenton: Ely Cathedral; f.10-12: Fenton: Lichfield Cathedral; f.13: Greenish: Landaff Cathedral. North door (1860); f.14 Fenton: Salisbury Cathedral. Nave; f.15: Cocke: Salisbury Cathedral. Cloisters (1860); f.16: Greenish: Wells Cathedral. Oriel window, Vicar's Close; f.17: Fenton: York Minster. West Portico; f.18: Cade: Castle Acre Priory (1860); f.19: Cade: Colchester, St Botolph's Priory (1858); f.20: Fenton: Fountains Abbey. Great Tower; f.21: Greenish: Glastonbury Abbey (1860); f.22: Frith: Melrose Abbey (1856); f.23-24: Fenton: Rievaulx Abbey; f.25: Bedford: Rievaulx Abbey; f.26: St Osyth's Priory, Essex; f.27-29: Bedford: Tintern Abbey (see reproduction above); f.30: Whitby Abbey (1860); f.31: McLean, Melhuish & Co.: Whitby Abbey
Several of the photos by Francis Bedford (of Canterbury Cathedral, Tintern Abbey etc) also appear in the Untitled (Stephen Thompson) album acquired by the NGV in 1988: for details, see the artist entry on Bedford.
Refs.
Not listed in NGV 1894 or NGV 1905

A recently-produced contents list is held with the album. None of the photos is reproduced by the SLV; ID photo reproduced above taken by the author
For Thomas Greenish, see the website "Photographers of Great Britain & Ireland 1840-1940" (without listing any dates or details: see https://www.cartedevisite.co.uk, accessed 26 October 2019). For the other photographers involved, refer linked entries as noted