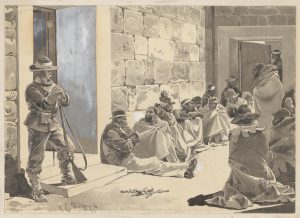 Fripp, Charles Edwin (1854-1906; British)
Incidents in the Zulu War, 1878  1878
Brush and wash over pencil, 81.7 x 53.3 cm
Presented by the proprietors of The Graphic, 1881
National Gallery of Victoria (p.168.15-1)
The son of English watercolour specialist G.A.Fripp (1813-96), C.E.Fripp made his name as an artist-reporter covering various British military actions in the second half of the 19th century, especially in South Africa.
The Anglo-Zulu Wars of 1879-96 were initiated by a British ultimatum in December 1878, insisting that the Zulu chief Cetshwayo renounce his sovereignty and order his people to disarm. Fripp's painting Last Stand of the 24th, Isandlwana (National Army Museum, Chelsea, c.1885) is the most famous image of the "Great Zulu Victory" of 22 January 1879, when 1,200 British soldiers were wiped out by a large force at Islandlwana, north of Durban. News of the defeat caused widespread shock in England. The present image relates to a slightly earlier phase when the British still held sway.
This work was donated to the Melbourne collection at the same time as the purchase of a number of illustrations by various contributors to The Graphic  (founded in London in 1869: see linked entry). Fripp worked for the magazine from 1875, first in South Africa, then in the Sudan.
The NGV also holds another 1878 wash drawing by C.E.Fripp, donated by John Connell in 1914; and a characteristic 1850s watercolour by his father G.A.Fripp, Sunrise in the Highlands (acquired through the Felton Bequest in 1933).
Refs.
AR 1881, p.55; NGV 1894, V.ii.40 (as The Zulu War); not listed in NGV 1905 
For the artist, see AKL 45 (2005), pp.250-52, Bénézit 5, p.1114, and http://www.gutenberg.org/files/23692/23692-h/23692-h.htm; and for his Isandlwana painting, see e.g. Ian Knight, Isandlwana 1879: The Great Zulu Victory, Bodley: Osprey Publishing, 2002, p.64 (available online via Google Books)
For the other NGV drawings mentioned, see https://www.ngv.vic.gov.au/explore/collection/work/27168/ (untitled sketch of soldiers resting; clearly signed and dated C.E.Fripp 1878, but catalogued incorrectly as by G.A.Fripp); and https://www.ngv.vic.gov.au/explore/collection/work/27169/ (G.A.Fripp's Sunrise in the Highlands)