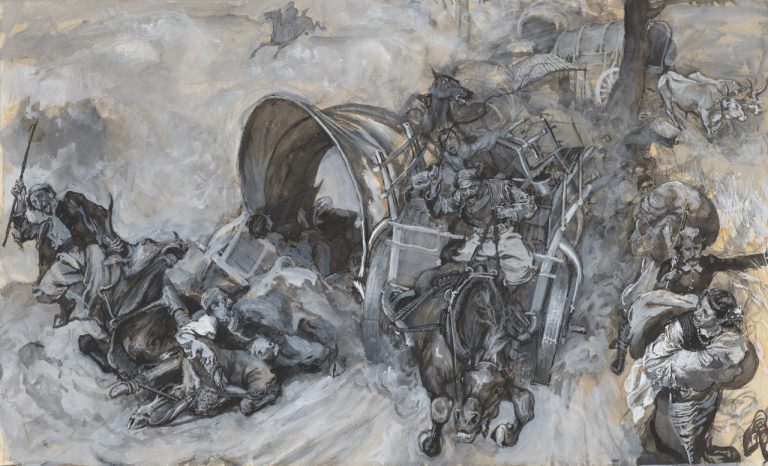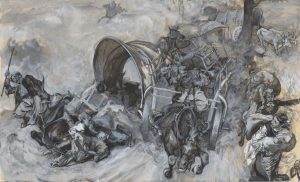 Gregory, Charles (1840-98; English)
Flight into Alexinatz, Servian War
Brush and wash on paper, approx.29 x 48 cm
Purchased, 1881
National Gallery of Victoria (p.168.14-1)
Gregory was one of a number of British journalists and war artists noted for their reporting of the Serbo-Turkish War (1876-78), in which Serbia and Montenegro, fighting in support of a Bosnian uprising, achieved independence from the ruling Ottoman Turkish Empire. This dramatic illustration of an episode from the conflict near Alexinatz (the site of a famous battle fought in September 1876) was bought from the 1881 Melbourne International Exhibition.
Margaret Maynard points out that this drawing, one of several made for The Graphic, had been shown previously at the Intercolonial Exhibition in Brisbane in 1880. Maynard adds that Gregory's Among the Brigands, another drawing shown in Brisbane in 1880, was bought for the Art Gallery of New South Wales in the same year (having already been included in the Sydney International Exhibition in 1879); however, that work no longer appears to be in the AGNSW.
Refs.
AR 1881, p.54; NGV 1894, p.52 (II.Stawell Gallery, no.53); NGV 1905, p.55 (II.Stawell Gallery, no.70, giving the size as 11.5 x 19") [£27] 
For the artist, see AKL 61 (2009), p.370; Bénézit 6, pp.637-38; and http://www.bonhams.com/auctions/21690/lot/35/. See also Margaret Maynard, "Aspects of Taste: Exhibitions of art in Brisbane 1876-1887," John Oxley Journal 1.6, 1980, pp.16-29 (http://espace.library.uq.edu.au/view/UQ:243632/John_Oxley_Jnl_v1no6_1980_p16_p29.pdf), esp. pp.22 and 28 (n.40). For comments on the coverage of the Turkish-Serbian war by British journalists and artists, see https://research.kent.ac.uk/victorianspecials/exhibitionitem/turkish-serbian-war-1876/