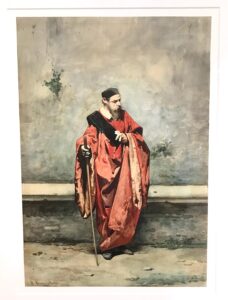 Guardabassi, Guerrino (1841-93; Italian)
The Venetian Senator
Watercolour, 47.1 x 32.3 cm (sight)
Purchased 1883
National Gallery of Victoria (p.170.5-1)
This illustrative image is signed by the artist at lower left. It is unclear why it was the sole example of his watercolours bought in 1883 to be spared in the 1940s/early 50s purge of the collection.
Refs.
AR 1883, p.33; NGV 1894, p.51 (II.Stawell Gallery, no.47; size given as 18 x 13 inches); not listed in NGV 1905 [£10/10] 
This work is not yet reproduced in the NGV's online catalogue; author's ID photo reproduced here (Oct.2019)