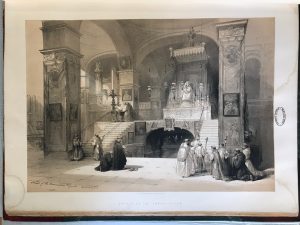 Haghe, Louis (1806-85; Belgian/English), after Roberts, David (1796-1864; Scottish)
The Holy Land, Syria, Idumea, Arabia, Egypt & Nubia (1842-49)
250 coloured lithographs in 6 volumes
Purchased by 1860
State Library of Victoria (Rare Books collection) 
[photo: Church of the Annunciation, Nazareth (Vol.1, pl.31)]
This substantial collection, published in two 3-volume sets, with accompanying explanatory texts, was acquired for the Melbourne Public Library in the late 1850s.
In an illuminating analysis (2018), the State Library of Victoria's Stephen Jakubowicz compares the Haghe/Roberts images with Francis Frith's photographs of the Middle East, produced in the later 1850s and donated to the Melbourne collection from 1860 onwards.
Observing that both groups of images reflect the Egyptomania of the period, Jakubowicz notes close parallels between some individual images in each series (e.g. of various sites in Israel, Egypt etc). However, Roberts' pictorial and sometimes theatrical images, accentuated at times by Haghe's colouring, contrast sharply with the austerity of Frith's photographs, in an intriguing demonstration of the divergent aesthetic tendencies of the era (see also linked artist entry for other pre-Felton examples by Roberts).
Haghe, who settled permanently in England in 1823, formed the lithographic firm of Day & Haghe with William Day (1797-1845) in 1830. The firm, appointed "Lithographers to the Queen" in 1838, pioneered colour lithography. Both the NGV and the Art Gallery of New South Wales own further individual prints from the present series; and the AGNSW also holds a watercolour by Haghe (The Miseries of War 1850), purchased in 1883.
Refs.
Not listed in early NGV catalogues 
SLV RARESEF 915.69 R54 and 54E, with full bibliographic details. The SLV catalogue provides no reproductions; author's photograph shown here. Jakubowicz, "True Portraiture" (2018) also includes several colour reproductions 
For Haghe, and the other holdings of his work in the NGV and AGNSW, see https://en.wikipedia.org/wiki/Louis_Haghe;  https://www.ngv.vic.gov.au/explore/collection/artist/9518/ (four prints all acquired after 1905); and https://www.artgallery.nsw.gov.au/collection/works/?q=Haghe