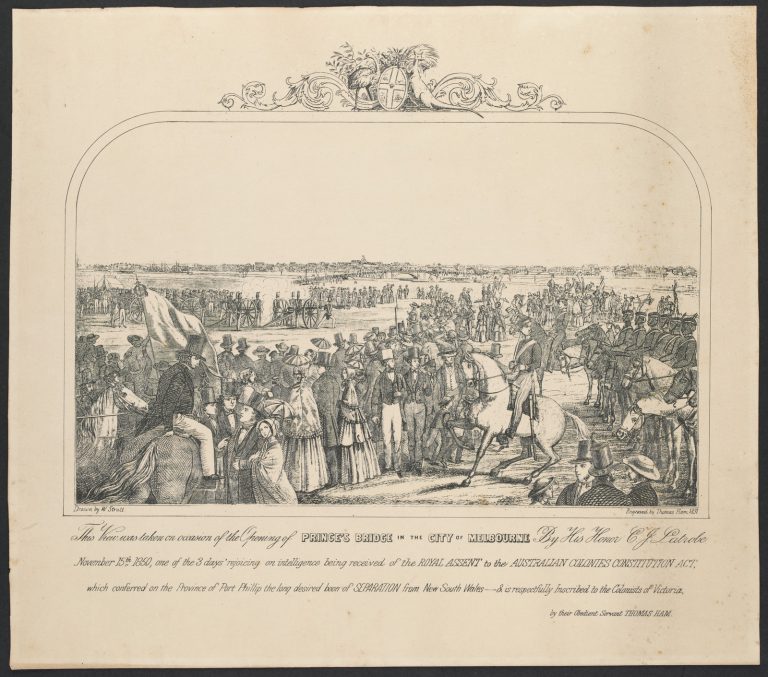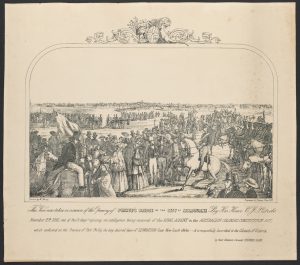 Ham, Thomas (1821-70; English/Australian), possibly after Strutt, William (1825-1915; English/Australian)
Opening of Prince's Bridge 1851
2 Engravings
Acquired 1868 (donated by John Pascoe Fawkner?)
State Library of Victoria (H28683) (?)
The opening of Prince's Bridge on 15 November 1850 became the focus of celebration of Victoria's separation from New South Wales, passed into law shortly beforehand, although not formalized until July 1851, just before the discovery of gold in Victoria.
Thomas Ham, active as a printmaker and photographer in Melbourne after he arrived from England in 1842 (see linked artist entry for further details), published comparative images of the new bridge and its rickety predecessors in September 1850. On the day the new structure opened, according to the Melbourne Argus, Ham set up a mobile lithographic press and ran off impressions for the crowd.
Exact identification of the two engravings listed in the NGV's unpublished list of pre-Felton acquisitions under 1868 is difiicult. The SLV holds a number of engravings of the subject by Ham, several inscribed as drawn by William Strutt (e.g. the example reproduced here).
Refs.
Not listed in early NGV catalogues
See PF nos.361-62 (1868): acq.nos.p.183.18 and 19-1. For the work reproduced here, actually one of 4 listed, see SLV online catalogue, also listing a "zincographic engraving" (H82.288/123; with photo; inscribed at upper right "No.7") 
For the information about Ham's images of the bridge, see Downer & Phipps Victorian Vision (1985), pp.16-17, citing relevant sources from 1850