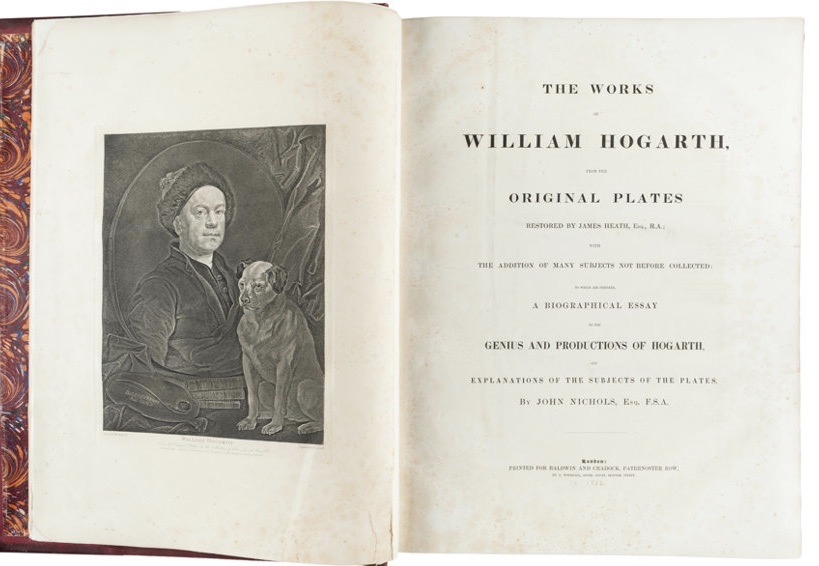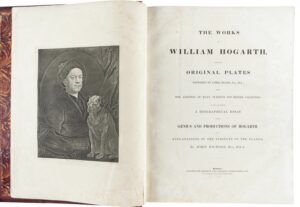 Hogarth, William (1697-1764; English), after
Works of, from the original plates restored by James Heath… (London: Baldwin & Craddock, 1822)
Purchased 1857
State Library of Victoria [AEF 769 H67]
The engravings are by James Heath, ARA (1757-1834), Blake and others. The text, comprising a biographical essay and remarks on the individual works, is by London publisher and writer John Nichols (1745-1826).
[photo: frontispiece and title page from another edition]
Refs.
MPL 1857, iii.18 [& MPL 1861, p.205]
See SLV catalogue, also listing a later edition (1835-37): SLV AEF 769 H67. Another copy of the 1822 edition, held in the University of Melbourne library, is available in digitized form: see http://cat2.lib.unimelb.edu.au/record=b1500251. For the copy reproduced here, see https://historical.ha.com/itm/books/world-history/william-hogarth-the-works-of-william-hogarth-from-the-original-plates-restored-by-james-heath/a/6094-36119.s (websites accessed 20 Feb.2021)