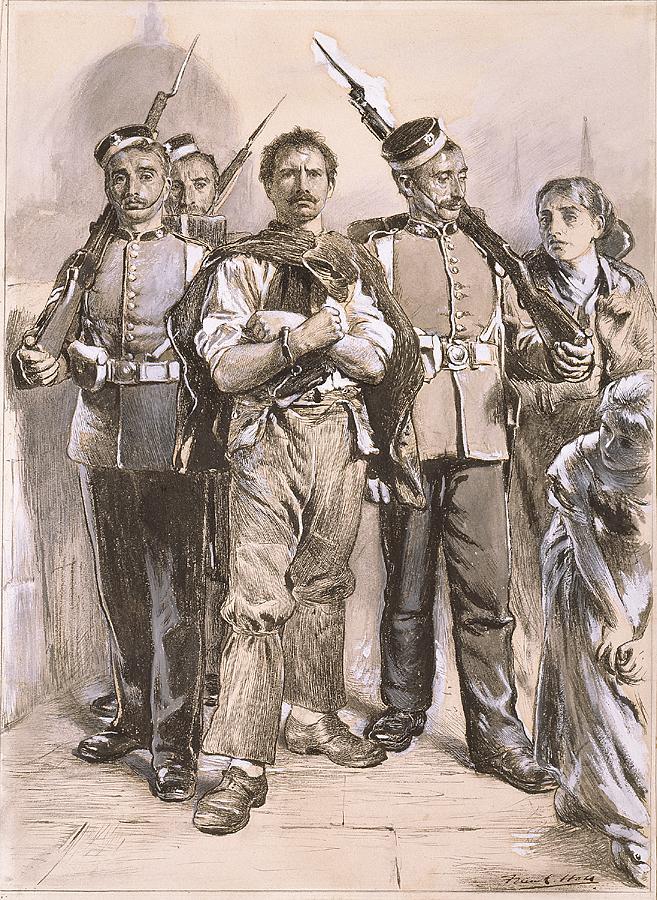 Holl, Frank (1845-88; English)
The Deserter (1875)
Pen and ink, brush and grey and black wash, heightened with white over traces of charcoal, 49.5 x 36.0 cm (image), 50.1 x 36.6 cm (sheet)
Purchased, 1881
National Gallery of Victoria (p.168.16-1)
This was one of the drawings originally made for The Graphic and purchased at the Melbourne International Exhibition (1880-81).
The artist, who came from a family of noted engravers, achieved a considerable reputation as a painter and graphic artist, despite persistent poor health. Several of his paintings were acquired for the NGV after 1905, notably Home again! (1881).
Refs.
AR 1881, p.54; NGV 1894, p.54 (II.Stawell Gallery, no.58); NGV 1905, p.58 (II.Stawell Gallery, no.80; ill.) [£35] 
For the artist, see AKL 74 (2012), pp.258-59; Bénézit 7, p.222, and http://en.wikipedia.org/wiki/Frank_Holl; for his other works in the NGV, refer the gallery's online catalogue