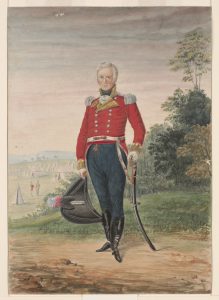 Jackson, Arthur Levett (1834-88; Australian?)
Colonel Johnston 1873
Watercolour on buff board, 28.8 x 20.4 cm
Commissioned by the Trustees of the Library, 1873
State Library of Victoria (H11414)
This was one of three watercolours commissioned from Jackson in 1873-4, apparently to serve as models for works in the Melbourne Public Library's "Oval portrait" series. A somewhat amateurish replica of an 1810 watercolour of Johnston by Robert Dighton (Mitchell Library, Sydney), this work was used as the basis for no.12 in the MPL's oval series, by Thomas Chuck.
George Johnston (1764-1823), a career soldier, arrived in Australia with the First Fleet in 1788. Acting on behalf of John Macarthur and other disaffected parties, he arrested Governor William Bligh, and assumed the position of Lt-Governor of NSW from January to December 1809, actions for which he was subsequently court-martialled in London (June 1811), and cashiered. Later, he returned to New South Wales, and became a successful farmer.
Refs.
Not listed in AR 1873, NGV 1894 or NGV 1905 
For the  portrait by Dighton (1752-1814), signed and dated 1810 (Mitchell Library ML 511), see the online catalogue of the State Library of NSW. See also "Oval portrait" series, nos.12 (Chuck's portrait of Johnston, noted in AR 1874, p.36), and 4 (Bligh)
For Johnston, see http://adb.anu.edu.au/biography/johnston-george-2277 (biography by A.T.Yarwood, published in ADB vol.2, 1967)