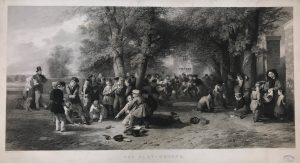 Joubert, Ferdinand (1810-84; French/English), after Webster, Tom (1800-1886; British)
The Playground 1865
Engraving, 45.4 x 91.5 cm (image)
Gift of John Pascoe Fawkner 1868
National Gallery of Victoria (p.180.17-1)
The inscriptions below this large image (almost a metre wide) indicate the title and the artists involved, and describe the print as "engraved for the Art Union of Glasgow Year 1865." Other impressions auctioned recently are dated 1858 and 1859.
Webster's 1852 painting A School Playground (oil on canvas, c.76 x 151 cm) was recorded recently as in a private collection in Britain. A genre painter known particularly for his pictures of village life, Webster was elected a Royal Academician in 1846; his last thirty years were spent at the artists' colony in Cranbrook, Kent.
Jean Ferdinand Joubert de la Ferté, born in Paris, exhibited at the Salon from 1840-65, but lived in England from the 1830s, becoming a naturalized British subject in 1855. He also engraved notable postage stamps of the era (British, Maltese, etc.).
Refs.
Not listed in the early NGV catalogues.
See https://www.ngv.vic.gov.au/explore/collection/work/37355/ (not reproduced; as by an unknown engraver after Robert Webster). Author's ID photo reproduced here
For another impression, auctioned in England in 2015, see https://www.the-saleroom.com/en-us/auction-catalogues/watsons/catalogue-id-srwats10013/lot-dc4260cf-1cf7-47fd-97bb-a4b900930575; and for a hand-coloured impression, dated 1859, see https://www.bidsquare.com/online-auctions/leslie-hindman/a-handcolored-engraving-by-f-joubert-21-x-38-1-2-inches-605987 (est.price US $150-250)
For Webster, see https://en.wikipedia.org/wiki/Thomas_Webster_(painter); and for the 1852 painting, see e.g. http://artpaintingartist.org/school-playground-by-thomas-webster/ and http://www.artnet.com/artists/thomas-webster/a-school-playground-5bCAPGrPDOa0VHCW8FkGkQ2. For Joubert, see https://en.wikipedia.org/wiki/Ferdinand_Joubert and https://www.britishmuseum.org/research/search_the_collection_database/term_details.aspx?bioId=119506