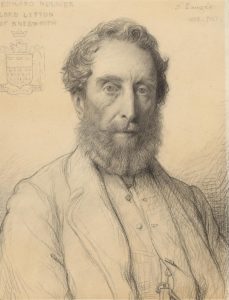 Laugée, Désiré (1823-96; French)
Edward Bulwer – Lord Lytton of Knebworth 1872
Charcoal, wash and pencil, 25 x 26.8 cm (sheet)
Purchased 1881
National Gallery of Victoria (p.168.9-1) 
Like a number of other drawings shown in the international exhibitions held in Brisbane and Melbourne in 1880-81, this portrait was made for The Graphic.
The sitter (1803-73), an occasional parliamentarian and, briefly, Secretary of State for the Colonies (1858-59), was raised to the peerage in 1866. He also wrote The Last Days of Pompeii (1834) and other novels.
Laugée was a naturalist painter who also portrayed Victor Hugo and Alexandre Dumas (both of whom he knew).
Refs.
AR 1881, p.54; NGV 1894, p.54 (II.Stawell Gallery, no.60); NGV 1905, p.59 (II.Stawell Gallery, no.83; ill.) [£18] 
For Bulwer, see e.g. http://en.wikipedia.org/wiki/Edward_Bulwer-Lytton. For the artist (not listed in AKL), see Bénézit 8, pp.521-22 and internet references, e.g. http://fr.wikipedia.org/wiki/D%C3%A9sir%C3%A9_Fran%C3%A7ois_Laug%C3%A9e and http://www.diomedia.com/stock-photo-victor-hugo-french-author-1885-artist-d-laugee-image3253457.html (portrait of Victor Hugo, also forThe Graphic)