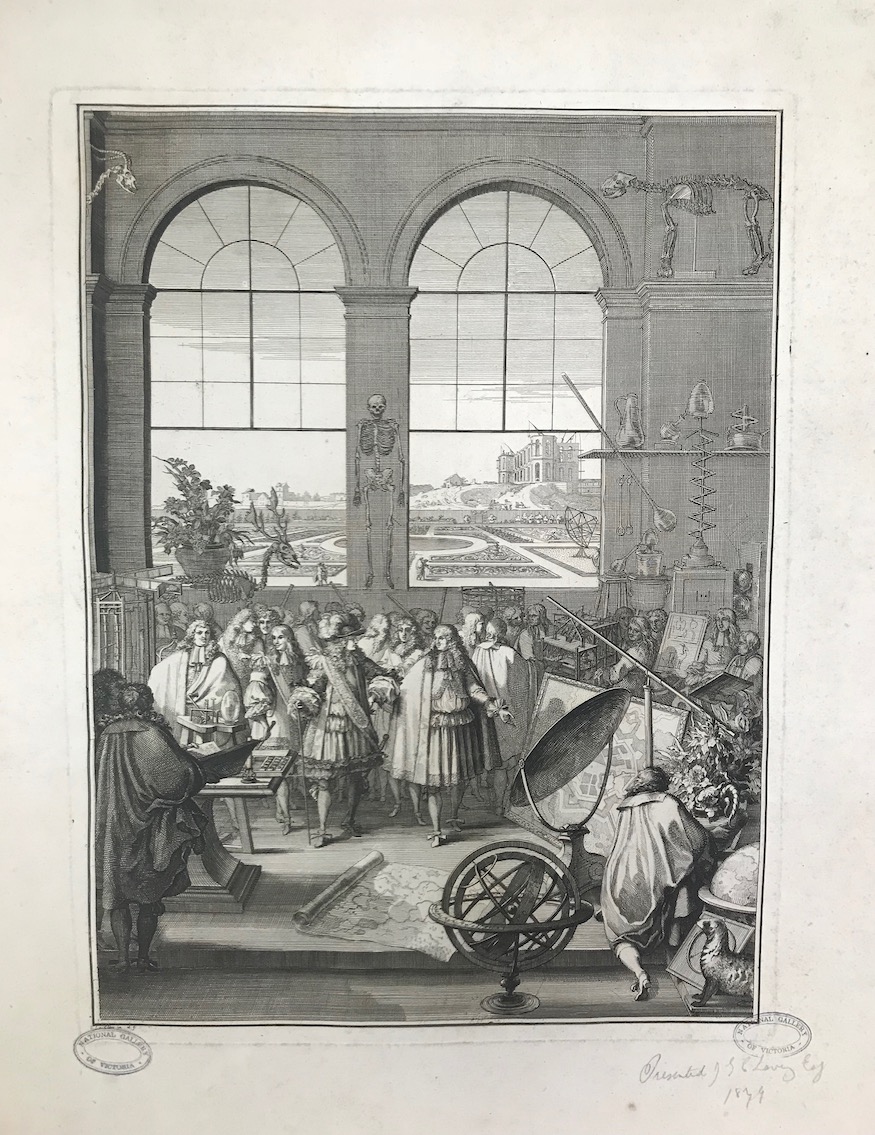 Le Clerc, Sébastien (the Elder) (1637-1714)
Untitled [Visit of Louis XIV to the Jardin du roi] (c.1671)
Engraving with etching, 42.7 x 31.8 (plate); 64.7 x 49.8 (sheet, irreg.)
Gift of George Collins Levey 1879
National Gallery of Victoria (p.183.51-1)
= Levey gift, cat.no.174
This fascinating print, signed "Le Clerc" in the plate at lower left, was published as the frontispiece to Claude Perrault's Mémoires pour servir à l'histoire naturelle des animaux (1671).
It shows Jean-Baptiste Colbert giving the king and his court a guided tour of the new academy of science housed in the botanical garden in Paris now known as the Jardin des plantes – an apparently imaginary event preceding by a decade the king's first documented visit to the site in 1681. For further details on this engraving, see Fuhring, A Kingdom of Images (2015), cat.15 (entry by Remi Mathis), noting that the first edition of Perrault's book also included a series of anatomical plates by Le Clerc. 
The Jardin du roi, founded in 1626 by Louis XIII's physician, Guy de la Brosse, included comparative anatomical as well as botanical collections, and was administered, like so much else during the opening decades of the reign of Louis XIV, by Colbert. The arched windows overlook a large garden, with Perrault's new Observatory, begun in 1667, under construction in the background.
In 1793, the complex was renamed by decree a national museum of natural history, a role it continues to play, as the central museum of a network throughout France.
Refs.
Not listed in NGV 1894 or 1905 
The NGV catalogue lists this as an untitled work by Le Clerc (no reproduction). Author's ID photo reproduced here (2018)

For a good recent analysis of this print (BnF impression), see Mathis in Fuhring Kingdom of Images (2015), cat.15, pp.104-5 (with details as noted above; citing IFF XVIII, 1980, 8, no.2915). For Perrault's Observatory, see Berger A Royal Passion (1994), ch.5