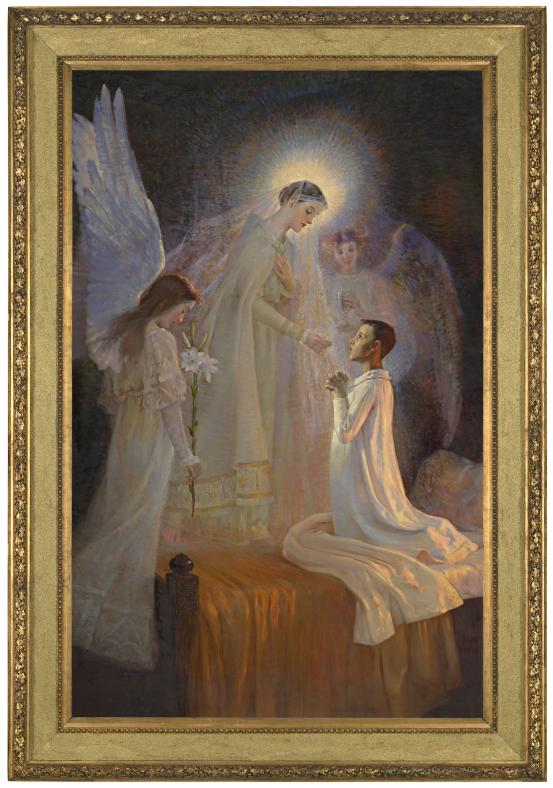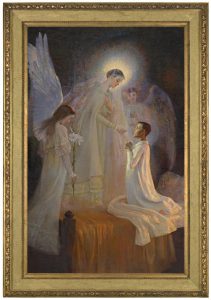 Loureiro, Artur Jose (1853-1932; Portuguese/ Australian)
The Vision of St Stanislaus 1899
Oil on canvas, 304.6 x 195.8 cm
Purchased, 1901 (advice of Bernard Hall)
National Gallery of Victoria (99-2)
This large-scale religious composition, shown at the Paris Salon in 1901, was acquired for the substantial sum of £350.
The subject, as explained in NGV 1905, is St Barbara, with angels, giving the sacrament to the ailing Polish Jesuit youth Stanislaus Kotka (1550-68), a popular saint who was beatified in 1605, and canonized in 1726.
Refs.
AR 1901, p.23; NGV 1905, p.99 (III.McArthur Gallery, no.63; ill.) [£350] 
The NGV catalogue entry includes information on the frame, manufactured in Melbourne by John Thallon in 1899, and restored in 1995
For St Stanislaus, see e.g. http://en.wikipedia.org/wiki/Stanislaus_Kostka (citing the Catholic Encyclopedia)