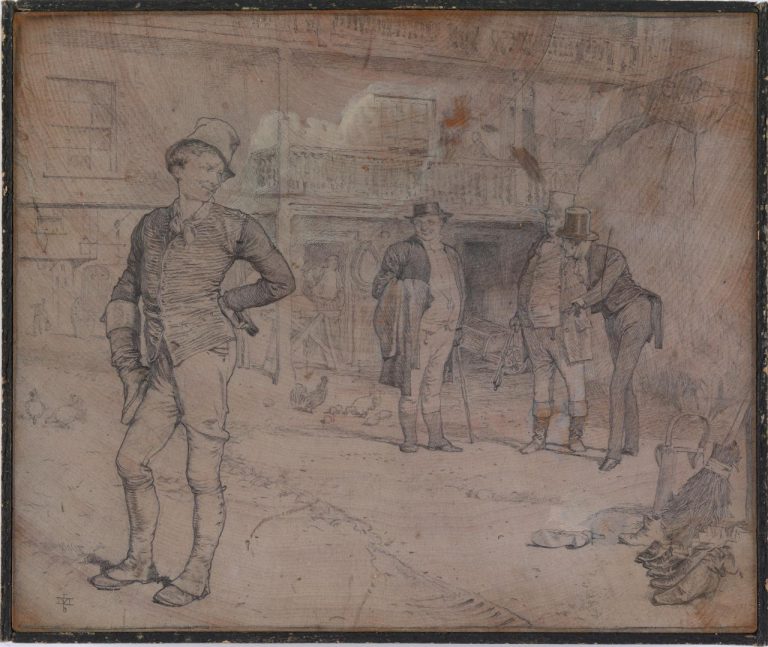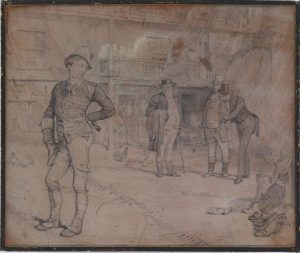 Mahoney, James (1810-79; Irish)
Pickwick finds Sam Weller
Pencil and wash drawing on wood block, 8.0 x 11.7 x 2.3 cm
Purchased, 1896 (advice of Joseph Pennell)
National Gallery of Victoria (28-2) 
Sam Weller is shown here at his discovery by Mr Pickwick at London's White Hart Inn, in Charles Dickens' first novel The Pickwick Papers (1836-37). Weller's Cockney saws made the novelist's reputation.
This was evidently a preparatory woodblock drawing by the artist, well known for his designs for wood engravings (of which the NGV holds several impressions, acquired in the 1950s). Having achieved fame for his Illustrated London News images of the Great Famine in Ireland (1846-51), Mahoney moved permanently to London in 1859, and contributed to the "Household Edition" of Dickens' works in the 1870s.
Refs.
AR 1896, p.24; NGV 1905, p.57 (II.Stawell Gallery, no.77) [£11/13] 
For the artist, see Bénézit 9, p.47 (giving his dates as c.1816-179); http://www.visual-arts-cork.com/biographies-of-irish-artists/james-mahoney.htm; and http://www.victorianweb.org/victorian/art/illustration/mahoney/index.html. For the wood engravings by Mahoney held in the NGV, see https://www.ngv.vic.gov.au/explore/collection/artist/691