Marshall, William Calder (1813-94; Scottish) [after]
Miranda
Parian ware, size unknown
Acquired by 1865
Unidentified; present location unknown
This bust, representing Prospero's daughter from The Tempest, was described in the NGV's 1865 catalogue as by "W.G.Marshall," and made in "Parian marble". The sculptor was evidently W.C.Marshall, as detailed above. One of the most prolific sculptors active in Victorian Britain, he was responsible for many public sculptures in London, including Agriculture, on the Albert Memorial, completed by 1868. Various replicas of his works in Parian porcelain were also produced.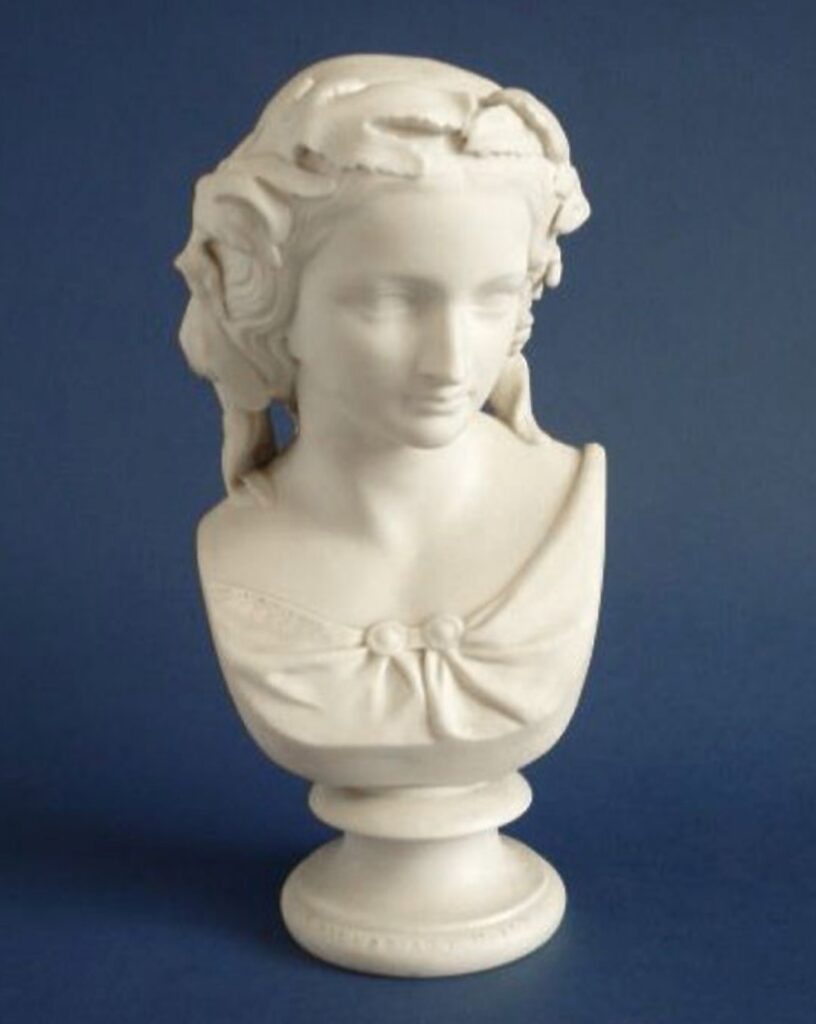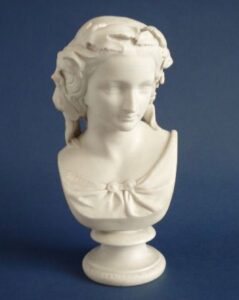 A Parian bust of Miranda after Marshall, manufactured by Copeland, offered for sale in England recently, appears to correspond to the example previously in Melbourne: see comparative photo shown here.
[comparative photo: another Parian bust of Miranda, credited to Copeland and Marshall, on sale recently]
Refs.
NGV 1865, p.33 (bust no.45; as by "W.G.Marshall"); not listed in NGV 1894 or 1905
For Marshall, see http://sculpture.gla.ac.uk/view/person.php?id=msib2_1202171433 and https://en.wikipedia.org/wiki/William_Calder_Marshall (with further references); see also AKL 87 (2015), pp.304-5 and Bénézit 9, p.339
For the Parian bust reproduced here, dated to c.1860, see https://www.premierantiques.co.uk/copeland-parian-ware-crystal-palace-art-union-bust-of-miranda-by-w-c-marshall-c1860-2765-p.asp (accessed 11 Oct.2020; many thanks to Jennie Maggs for tracking down this example.

For other Parian ware works after Marshall, see e.g. http://www.the-saleroom.com/en-us/auction-catalogues/staceys-auctioneers-and-valuers/catalogue-id-srsta10050/lot-ceab20f0-dc0c-4248-a14a-a54000de1b77 (lot 956: Lesbia; illustrated), and http://www.arcadja.com/auctions/en/marshall_w_g/artist/488226/ (Burston & Hewett auction, Battle, 19 March 2014, lot 404: Ophelia; illustrated). For the  Parian medium, see e.g. * Bonham Carter Florence Nightingale {1880} Loc? [SC], one of several examples in the pre-Felton collection

The Art Gallery of New South Wales also holds a marble statue by Marshall entitled Oenone, purchased in 1887; I have yet to see this work, which is not reproduced in the online catalogue of the AGNSW collection. Oenone was the wife of Paris, who abandoned her for Helen