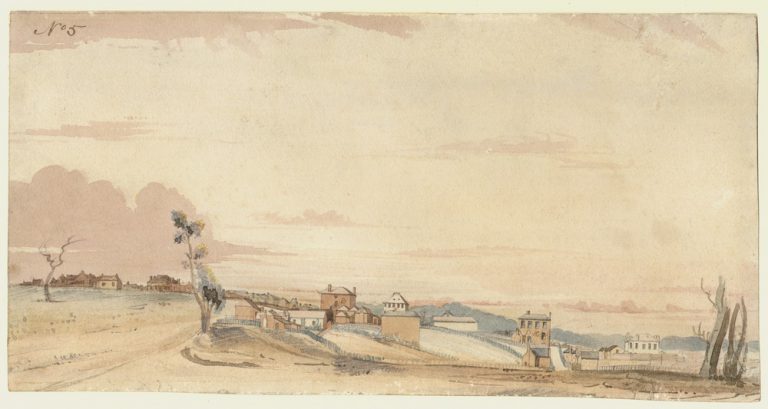 O'Brien, George (1821-88; Irish/New Zealander)
Melbourne taken from near the west end of Collins Street – 1840
Watercolour and pencil, 14.8 x 29.4 cm
Gift of John Pascoe Fawkner, 1868
State Library of Victoria (H271)
An inscription on the verso notes that the work was made for Fawkner, who presented it to the Melbourne collection in 1868 with several other sketches of early Melbourne by O'Brien and others (refer linked entries on both Fawkner and O'Brien). "No.5" is inscribed at the upper left.
Refs.
AR 1870-71, p.34 (sketches donated by Fawkner); NGV 1894, p.117 (V.Buvelot Gallery, 3rd bay, no.62: 'Melbourne from the Westward of Collins Street in 1840'); NGV 1905, p.128 (V.Buvelot Gallery, 3rd bay, no.14: 'Melbourne in 1840, from the West End of Collins Street') 
For this work, see also Downer & Phipps Victorian Vision (1985), cat.164