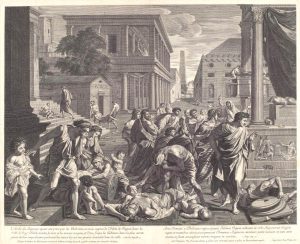 Picart, Étienne (1632-1721), after Poussin, Nicolas (1594-1665)
L'Arche du Seigneur…[The Plague of Ashdod] 1677
Engraving, 39.2 x 52.2 cm (image), 43.2 x 53.6 cm (plate), 50.0 x 59.2 cm (sheet)
Gift of George Collins Levey 1879
National Gallery of Victoria (p.183.9-1)
= Levey gift, cat.5
This was the only print after Poussin in the Tableaux du roi series engraved by Picart; the others were by Chasteau and Rousselet (see separate entries).
Poussin's canvas (1630-31) illustrates the dire consequences of the Philistines' capture of the Israelites' Ark of the Covenant and its placement in the Temple of Dagon at Ashdod, as recounted in 1 Samuel, chs.5-6. The engraving reverses Poussin's composition.
In a striking analysis, Australian sociologist John Carroll (1993) interprets Poussin's picture in the context of the Counter-Reformation, calling it a deeply "anti-humanist" painting.
Refs.
NGV 1894, p.110 (V.Buvelot Gallery, 2nd bay, no.57); NGV 1905, p.125 (V.Buvelot Gallery, 2nd bay, no.45) 
Cf. Suite et Arrangement (1727), p.1; Duplessis Cabinet du roi (1869), p.7 (La Peste).
For Poussin's canvas (Louvre Inv.7276), see Louvre cat.II (1981), p.142 (bought from the Duc de Richelieu in 1665) and http://www.nicolas-poussin.com/en/works/plague-at-ashdod/(with a good reproduction); and John Carroll, Humanism: the Wreck of Western Culture, London: Fontana, 1993, pp.85ff.