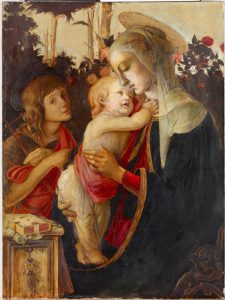 Quinn, James (1870-1951; Australian), after Botticelli, Sandro (1445-1510; Italian)
Virgin and Child with the young St John the Baptist, c.1896
Oil on canvas, 91.1 x 68.2 cm
Presented by the artist under the terms of the NGV Travelling Scholarship, 1897
National Gallery of Victoria (31-2)
This meticulous copy of Botticelli's Louvre panel of c.1470 was made under the terms of the scholarship Quinn was awarded in 1893: see artist entry.
Merryn Gates (1989) comments that Quinn's choice of Botticelli was relatively adventurous for the time, an observation that applies particularly in the Australian context.
Michael Levey (1960) addresses the revival of interest in Botticelli in the 19th century, especially after 1870, the date of a famous essay by Walter Pater. A solid basis for modern research into the Florentine painter's oeuvre was only established as late as 1908, the date of Herbert Horne's monograph.
Refs.
AR 1896, p.24; NGV 1905, p.139 (V.Buvelot Gallery, 6th bay, no.1) 
For this work, see also Gates (ed.), re: Creation / Recreation (1989), cat.no.23, p.5 and fig.9. For Botticelli's Louvre panel (inv.286; 90 x 67 cm), see e.g. https://www.inkling.com/read/the-louvre-lessing-pomarede-1st/italian-school-15th-and-16th/sandro-botticelli-alessandro
For the 19th-century rediscovery of Botticelli, see in particular Michael Levey, "Botticelli and 19th-century England," Journal of the Warburg & Courtauld Institutes 23 (July-Dec. 1960), pp.291-306); see also Haskell, Rediscoveries in Art (1980), pp.174-75. See also Pater's essay, available online as http://www.victorianweb.org/authors/pater/renaissance/3.html; and Herbert Horne, Botticelli, Painter of Florence (1908), reprinted, Princeton, 1980