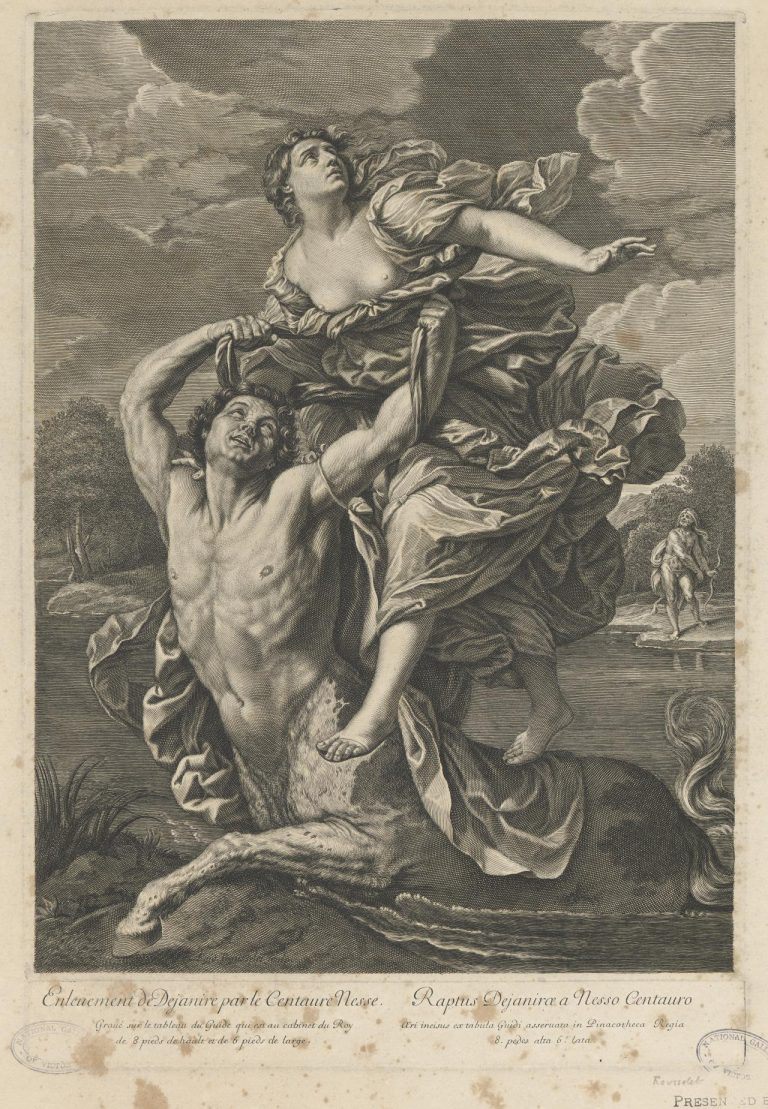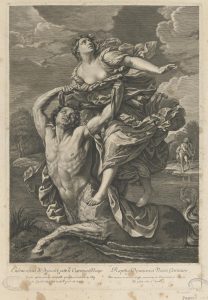 Rousselet, Gilles (1610-86; French), after Reni, Guido (1575-1642; Italian)
The Labours of Hercules (1669-70)
4 engravings
Gift of George Collins Levey 1879
National Gallery of Victoria (p.183.30-1 to 33-1) 
= Levey gift, cat.30-33
[photo: Abduction of Deianira (p.183.31-1)]
Rousselet's four engravings, for which he was paid in 1669, reproduced a series of canvases commissioned in 1617 by Duke Federigo Gonzaga of Mantua, for his Villa Favorita, near Mantua, and documented as painted by Reni between 1617 and 1621. The four paintings were later acquired by Charles I of England, and then, in 1662, by Louis XIV.
The imagery relies on Ovid's account of the labours of Hercules in the Metamorphoses, Book IX. In narrative sequence, the 4 individual works are as follows:
Hercule tuant l'Hydre [Hercules killing the Hydra] (NGV p.183.33-1) [Levey gift, cat.30] The second of Hercules' legendary Twelve Labours, this episode is mentioned briefly in Ovid's account of the battle between Hercules and Achelous: see below. In other versions of the story, Hercules triumphs over the multi-headed serpent Hydra with the help of his nephew Iolaus.
Combat d'Hercule et d'Achelous [Combat between Hercules and Achelous] (NGV p.183.32-1) [Levey gift, cat.31] In this episode, Hercules fights the river-god Achelous for the right to wed Deianira, and prevails despite the wiles of Achelous, who transforms himself into a serpent and a bull during their struggle. 
Enlevement de Dejanire par le Centaur Nesse [The abduction of Deianira by the centaur Nessus] (NGV p.183.31-1) [Levey gift, cat.32] This print (reproduced here) tells the story of how the young centaur Nessus, while ferrying Deianira across a river, attempted to ravish her, and was slain by Hercules (visible in the background). In 1923, a fine chalk study by Reni of the torso of Nessus was acquired for the NGV through the Felton Bequest (for details and reproductions, see also the NGV's online catalogue, and Pepper, Guido Reni, 1984, fig.39). 
Hercule se iettant dans un bucher allumé…[Hercules mounting his funeral pyre] (NGV p.183.30-1) [Levey gift, cat.33] This is the last episode in the story of Hercules engraved after Reni, although the earliest of the paintings to be completed, in 1617. The textual source is Ovid Metamorphoses IX: 132-3: after being poisoned by the blood of the centaur Nessus, Hercules immolates himself, ending his sufferings and achieving divinity.
Refs.
Not listed in NGV 1894 or 1905 
Cf. Suite et Arrangement (1727), p.2; Duplessis Cabinet du roi (1869), p.6, nos.6-9
For Reni's paintings, see Louvre cat.II (1981), p.226 (Inv.535-538), noting that they were purchased together in 1662; and Stephen Pepper, Guido Reni: A Complete Catalogue, Phaidon, 1984, cat.nos.68-71 (with further details). For the iconography, see Ovid Metamorphoses, trans.Mary Innes, Penguin, 1955, pp.203ff. (Book IX); and https://en.wikipedia.org/wiki/Labours_of_Hercules and https://en.wikipedia.org/wiki/Lernaean_Hydra (each with further references)