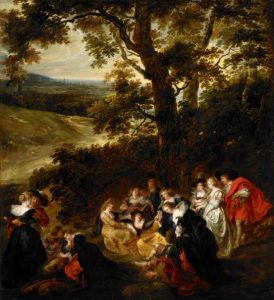 Rubens, Peter Paul (1577-1640: Flemish), after
The Garden of Love
Oil on canvas, 181.5 x 164.5 cm
Bequeathed by Alfred Felton, 1904
National Gallery of Victoria (138/2)
This large canvas, prominent in photographs of Felton's own collection prior to 1904, was designated "attributed to Rubens" in 1905, and later "School of Rubens" (NGV 1948).
Hoff (1995) describes it as "after Rubens," comparing a smaller original by Rubens in Waddesden Manor (c.1631), and suggesting a dating to the late 17th or early 18th century. Indications of provenance on the back suggest the painting passed through Spain en route to England. In 1995, Hoff reproduced it with discoloured varnish, but it has been cleaned since.
Refs.
AR 1904, p.26; NGV 1905, p.138 (V.Buvelot Gallery, 4th bay, no.2: Une Fête Champêtre) 
For full details, including information and references on the Rubens original, see Hoff (1995), p.261 (as noted above); cf. NGV 1948, p.133; see also Gates (ed.), re: Creation / Re-creation (1989), cat.no.41
Felton's work is prominently displayed in one of the photographs of his St Kilda rooms dating from 1902 (taken by Nicholas Caire): see Poynter Mr Felton's Bequests (2003/2008), p.181