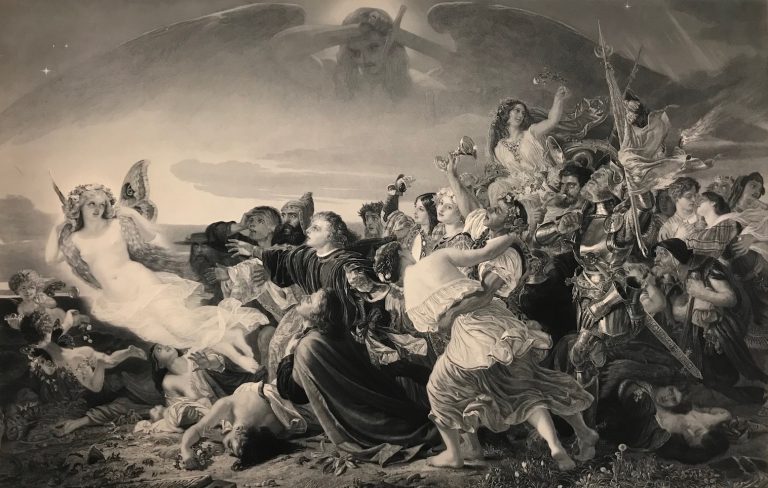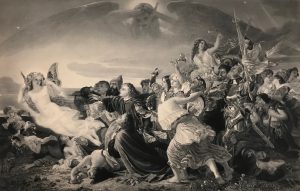 Ryall, Henry Thomas (1811-67; English), after Paton, Joseph Noel (1821-1901; Scottish)
The Pursuit of Pleasure: A Vision of Human Life 1864
Engraving and stipple-engraving, 63.2 x 98.2 cm
Presented by Thomas Russell, by 1865
National Gallery of Victoria 
This large-scale admonition against excessive enjoyment was included in early NGV catalogues and is still in the NGV collection, although it lacks an accession number and is not listed in the gallery's online catalogue.
Alison Inglis (1988, 1992) discusses it as an example of the way many 19th-century Australians relied on reproductions for their knowledge of contemporary British art. Paton's original painting, recently auctioned in London, dates from 1855. Ryall also engraved Paton's popular painting Home! The Return from the Crimea (1856).
For further details on both Paton and Ryall, see linked artist entries.
Refs. 
NGV 1865, p.40 (Engravings, no.2); AR 1870-71, p.34: Engravings (framed), identified as a proof; NGV 1894, p.106 (V.Buvelot Gallery, 2nd bay, no.8); not listed in NGV 1905 
This print is not listed in the NGV's current online catalogue; author's ID photo Oct.2019. See also Alison Inglis, "Art at second hand" (1988), pp.54-55 and fig.3; and Inglis in Galbally & others, The First Collections (1992), p.70, cat.no.21
For Paton's painting, see e.g. http://www.artvalue.com/auctionresult–paton-joseph-noel-1821-1901-un-the-pursuit-of-pleasure-a-visi-1748162.htm (Sotheby's auction, London, 27 Nov.2003, lot 20), and http://www.artvalue.com/auctionresult–paton-joseph-noel-1821-1901-un-the-pursuit-of-pleasure-a-visi-1768598.htm (Sotheby's auction, Edinburgh, 20 April 2004, lot 1), both with reproductions